After completing 10 weeks of intense technical and cultural training on the Essequibo Coast and living with Guyanese host families, 38 Peace Corps volunteers were sworn in yesterday at a ceremony held at the Imam Bacchus and Sons Playfield, Affiance, Essequibo Coast.
According to a press release from the US Embassy, the volunteers were sworn in by the US Embassy Deputy Chief of Mission (DCM) Terry Steers-Gonzalez.
The statement said that during their orientation period, the volunteers were shown the Guyanese way of life where they learned how to cook local food, negotiate in the market place and participate in community activities.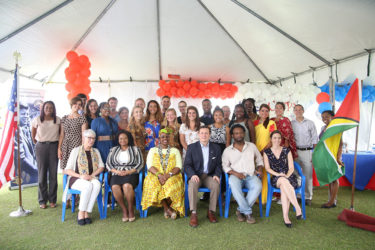 "The technical component, within both the health and education sectors saw trainees engaged in field practical in local schools and health centres. This further enhances their ability to support the needs and priorities of the communities they will serve," the statement said, while pointing out that the current batch of volunteers is the 30th group to serve in Guyana and for the next two years they will be complimenting and working alongside 70 more volunteers already working throughout the country.
"Guyana has an irresistible combination of fascinating and breathtaking natural beauty. This beauty is joined to a vibrant culture, a diverse and rich heritage and some of the most hospitable and friendly people," the statement quoted Steers-Gonzalez as saying.
According to the statement, the Peace Corps was first active in Guyana from 1966-1971 and later returned in 1995 after they were invited by then president Cheddi Jagan. Since its establishment, over 800 American volunteers have served Guyana.
"The Peace Corps welcomes the opportunity to work with the people of Guyana and extends its gratitude to the Government and people of Guyana for their hospitality and for the possibility they offer the volunteers in working together to advance Guyana's development goals," the statement added.
Around the Web