An army sergeant was up to late yesterday afternoon being questioned by the police following the discovery of a sound and flash grenade in his nephew's possession at the Timehri Primary School.
According to reports reaching Stabroek News, police were called to the school around 2.30 pm yesterday, after an alarm was raised about a nine-year-old child being in possession of what appeared to be a live grenade.
The child was questioned during which he reportedly related that he got the device from his seven-year-old cousin, whose father is a sergeant in the Guyana Defence Force.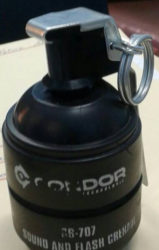 Information reaching this newspaper revealed that the sergeant reportedly uplifted the grenade among other items during last month to conduct training exercises. However, he failed to return same after the training as required.
The device was examined by experts of the Guyana Police Force, who found that it was not a fragmentation grenade.
Sound and flash grenades while non-lethal in open areas, produce a blinding flash of light and an intensely loud sound when detonated, causing temporary blindness and temporary loss of hearing in adults. There was no information as to the harm that could be caused to children.
The sergeant is likely to face charges soon.
Around the Web