Anjanie Boodnarine, the common-law wife of convicted drug lord Barry Dataram, found herself before a city court once again yesterday, charged with trying to smuggle prohibited items to the convict.
Boodnarine, 21, who was recently released from prison after being found not guilty of attempting to defeat the administration of the law to avoid the consequences and forging a passport, was read the charge by Chief Magistrate Ann McLennan yesterday.
According to the charge, on March 31, at the Mazaruni Prison, she took 14 packs of cigarettes for Dataram.
The mother of two denied the charge.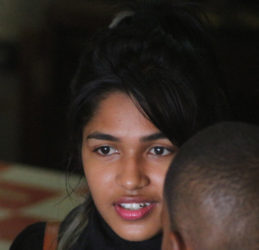 According to attorney Adrian Thompson, his client was given the package to give her husband but was unaware of what was in it.
Prosecutor Arvin Moore later made no objection to bail but requested that conditions be attached. The court also heard that the file in relation to the matter is completed.
Chief Magistrate McLennan subsequently granted the defendant her release on $150,000 bail and ordered that she report to La Grange Police Station every Friday until the completion of the trial.
The matter was then adjourned to April 20 and transferred to the Bartica Magistrate's Court.
Boodnarine was first charged in 2015, when she and Dataram, Kevin Charran and Trevor Gouveia, were accused of drug trafficking. She along with Charran and Gouveia were found not guilty of the crime.
She was also previously charged with leaving the country without presenting herself to an immigration officer, for which she was on trial at the Springlands Magistrate's Court.
Around the Web