The Civil Defence Commission (CDC) was in Coomacka recently looking at flooding and other risks as part of creating a Regional Disaster Risk Management Plan for Region 10.
GINA said on Tuesday that the CDC team included Deputy Director General, Major Kester Craig and Andria Grosvenor, Planning and Business Development Manager of the Caribbean Disaster Emergency Management Agency (CDEMA).
Coomacka  suffered major flooding recently from rain and has also experienced heavy siltation along the Demerara River.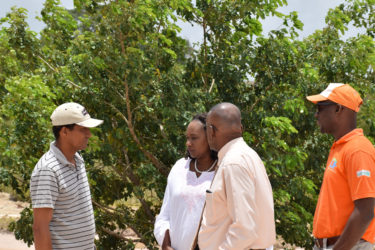 GINA said that Dexter Harding, a resident of Coomacka and Councillor on the Region 10, Regional Democratic Council (RDC), told the CDC officials that during heavy rainfall there is erosion of the revetment around the community and this results in flooding.
Harding said that the floodwaters carry sand and sediment from old bauxite mines around the community and deposits it into the Demerara River which borders Coomacka. He said the siltation of the river also fuels flooding.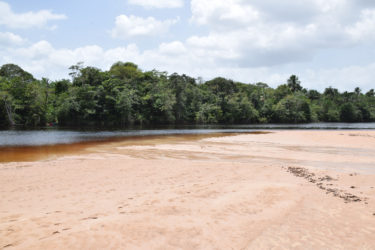 The Councillor also said that the erosion has led to the bank of the river being expanded and this has narrowed the water channels.
"This is something that if we don't really rectify it urgently or put a study to it, it would destroy homes, destroy livestock, our garden and many other things in the community," Harding stated.
According to GINA, CDEMA is funding the development of the Regional Disaster Risk Management Plan in Regions Ten and Nine. The Euro 60,000 fund will go towards developing risk profiles for the regions.
Grosvenor added that from her assessment, "There needs to be a much more comprehensive study of what is coming down…the sort of material that is being moved."
Craig noted that preliminary studies indicate that Coomacka is a high risk area and could be targeted for the establishment of a Community Based Disaster Risk Management Committee to help address the risks of flooding.
"The CDC will work with the community in a consultative process to identify the hazard and develop a system that is geared to responding to a Region's particular disaster," the CDC official said.
Harding told GINA he is confident that the CDC's efforts will not only bring relief to residents of Coomacka but also to those communities farther along the river.
"On the level of the community, I see that people from the other communities they will have a broader channel to bring down their logs, their produce and so on from up in the river," Harding said.
The CDC has already completed Regional Disaster Risk Management Plans in six Regions: One, Two, Three, Five, Six and Seven, GINA added.
Around the Web