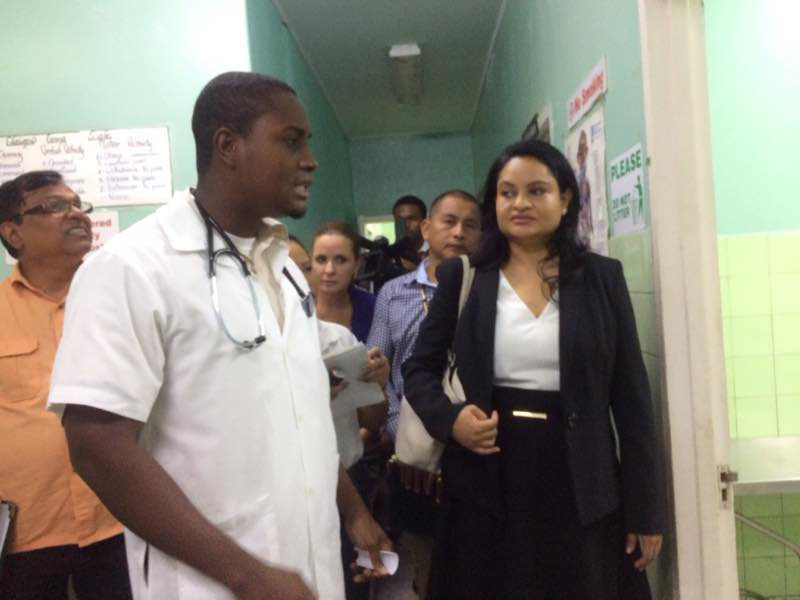 Although the Diamond Diagnostic Centre is staffed by a number of specialists in different fields, its efficiency has been hindered by the shortage of drugs and nonfunctioning equipment, members of the National Assembly's Social Services Committee were told yesterday during a performance assessment visit.
"The committee would summon the Minister of Health to give reasons as to why there are shortages. We will also have a discussion as to the way forward when we head back to Parliament," said Chair of the committee Dr. Vindhya Persaud, who headed the visit.
During the visit, the committee members, comprising PPP/C Members of Parliament Dr. Vishwa Mahadeo, Indra Chandarpal and Alister Charlie and parliamentary clerks, were given a tour of every department and issues were highlighted to them. There was also a private meeting with doctors on their concerns.
According to Dr. Michael Pereira, who monitors the Chronic Non-Communicable Diseases Department, the shortage of drugs is frustrating to him as a medical practitioner since many of his patients, said to be pensioners, cannot afford to purchase their medication elsewhere.
"We have not had insulin for the longest while and other critical drugs diabetic and hypertensive patients need… patients are complaining when they have to go and purchase their medication for $3,500 and $4,000," he explained.
He noted that it is unfair for doctors and nurses to have to work under such conditions since they have been trying to get patients to maintain a healthy diet and lifestyle.
At present, Pereira explained, patients are not being properly treated. "I can say in 2015, early 2016, I had better control of my patients… they don't have all their medication and this can lead to a high increase of chronic renal failure because of the uncontrolled sugar and  pressure," he indicated. Pereira further stressed that the shortage of drugs has taken a toll on him since he has not be able to function to full capacity. "We don't have equipment and medication to work… It is difficult for us because we cannot function," he pointed out.
The drug shortage also affects patients with Parkinsons and Thyroid disease.
Pereira also explained that his department does not have a nurse to handle infectious patients and said he would be happy if the Ministry of Public Health could assign one to the hospital. He noted that the last nurse coordinated with him and they held several sessions to educate patients on different diseases.
Meanwhile, lab technicians complained of poor working conditions. They told the committee they would have to rest and eat their meals in a tiny corner of the room, since they are not afforded the opportunity to leave for lengthy periods. They also pointed out  having to work in a humid room due to the air conditioning unit being nonfunctional for over a year.
It was also noted that while they are working to have the laboratory certified, it must be first customised to meet international standards.
Trying to improve
Medical Superintendent Dr. Maite Camacho Vazquez told the visiting team that in spite of constraints they are faced with daily, the hospital's staffers are working to improve the delivery of health care services. "We are trying to improve the hospital. We [have been] working for the last three months… we are trying to improve all services…," Vazquez said.
She boasted of the specialist doctors stationed at the hospital providing services in the areas of Orthopedics, Ophthalmology, Dermatology, General Surgery, Paediatric Care, Gynecology, Clinic Medicine, Anesthesiology, Intensive Care and Emergency Trauma.
Vazquez mentioned that they are trying to reduce the number of patients being referred to the Georgetown Public Hospital.
However, due to construction currently taking place, she explained, all high risk and trauma cases are transported to Georgetown since the Diagnostic Centre does not have the capacity and facilities to house patients and perform major surgeries. She recommended that a ward be constructed to allow the hospital to function to its full capacity. "Having functioning equipment is critical for us… the X-ray machine has been out for the longest while and we only have one functioning ultrasound machine… we are waiting for new machines…," she added.
In addition, Vazquez acknowledged that the supply of drugs at the hospital has been fluctuating, while noting that it depends on what is supplied to the hospital by the Materials Management Unit of the ministry.
In regards to the lab, Vazquez said that they are working to have it customised to reach the standards for certification and she has already written to the Regional Health Authority.
Further, it was noted that as a part of the hospital's programme to deliver efficient service, it has assigned doctors to the Herstelling, Grove and Kuru Kuru health centres on the East Bank of Demerara.
Responding to a question posed by Chandarpal on how long patients wait before receiving medical attention, Vazquez said immediate attention is given in cases of emergency, while in the outpatient clinic persons would wait a maximum of one hour before being treated.
'Poor planning'
At the end of the visit, Persaud noted that the recurring message was of a "severe shortage" of drugs.
She added that it seems as if there is poor planning by the government since it has been a year and a half and the drug shortage continues to be an issue.
"What we have seen here today is that doctors are working hard and they are frustrated because [there are] so many shortages and [they] see the patients suffering and they are getting more frustrated," she pointed out.
Persaud also lamented the fact that the hospital does not have an administrator and decision making is left to the Medical Superintendent. She called it unfair, since the situation prevents the doctor from fully executing her duties.
Mahadeo, on the other hand, lamented the fact that simple issues, such as the installation of a counter to fit a machine for biochemical testing could not be done although a request was made to the regional health authority.  He also underscored the need for functioning X-ray machines at the hospital. Nevertheless, he said it is his hope that the issues would be ironed out as soon as possible and he praised the staff for "working extra hours, way beyond the call of duty, to provide services and do their best with limitations."
In the coming months, the committee will also be visiting the Georgetown Public Hospital, the Mackenzie Hospital Complex in Linden and the Suddie Public Hospital in Essequibo. Persaud said that at the end of the visits, a comprehensive report would be compiled and presented to the National Assembly. The New Amsterdam Hospital was visited in March.
"The reason we are doing this is because ultimately the public is suffering. Doctors are saying they want to treat, they are treating patients but patients cannot access medication… government needs to seriously look at this," she asserted.
Around the Web