A former murder accused was yesterday granted his release on bail after he denied a charge of causing bodily harm to another man, whose injuries may be life-threatening.
Chief Magistrate Ann McLennan read the charge to Taijpaul Narine, 47, who is alleged  to have unlawfully and maliciously inflicted grievous bodily harm upon Seebert Fraser.
Police Prosecutor Arvin Moore stated that Fraser, though out of the hospital, sustained several injuries with a steel rod that, according to doctors, may be potientially life threatenting.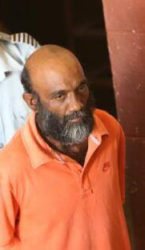 Narine, a labourer, was previously charged with murder and was sentenced to 30 years in jail but was released in 2013 after he won an appeal.
The defendant told the court that he was indeed inprisoned for murder and was sentenced to be hanged but he appealed the decision and won his case on the basis of mistaken identity.
After hearing all that was said by both the prosecution and the defendant, Chief Magistrate McLennan granted the accused his release on $15,000 bail and adjourned the matter to April 19, when it will be heard by Magistrate Fabayo Azore.
Around the Web