Mohammed Iqbal was yesterday morning sentenced to 15 years in jail after pleading guilty to unlawfully killing his ex-wife, Sookdai (Lalita) Basdeo, whom he admitted stabbing to death.
Iqbal pleaded guilty to the lesser count of manslaughter, which was accepted by the court and state.
Iqbal, who was originally charged with murder, accepted responsibility for unlawfully killing Basdeo on December 23, 2013 at Tuschen, East Bank Essequibo.
When given a chance to speak, the convict told Justice Navindra Singh that he and Basdeo had been married for 20 years, but she had been unfaithful to him and she subsequently left him for another man, who was his co-worker.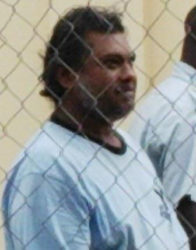 According to Iqbal, on the day of the killing, he had gone to the home the woman shared with her common-law husband, in a bid to talk to her.
He said that an altercation ensued between them. "We had a scramble," he said, during which he stabbed the woman.
"I had lost faith," Iqbal declared before adding, "Sir, I really, really sorry for what I have done."
The woman had been living with her reputed husband for a little over a year when she was killed.
Justice Singh told the convict that he understood his anger over his wife moving on with someone else, but firmly cautioned that domestic violence cannot be condoned in any form or fashion.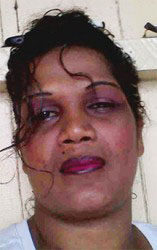 The judge warned that if persons make the decision to move on with their lives, others must accept their decision and allow them to move on. "You have to learn to control yourself," Justice Singh emphasised.
In arriving at the 15-year sentence, Justice Singh said that he had taken into account that Iqbal did not waste the court's time. He said that from information provided from his lawyer, it was Iqbal's desire, had it been so possible, to plead guilty since the commencement of the preliminary inquiry at the Magistrates' Court.
The judge said that this clearly showed that the convict knew that what he had done was wrong and knew that he needed to accept responsibility for his actions. This, the judge said, signals a positive move towards rehabilitation.
The court, however, also considered the aggravating factors raised by Prosecutor Tuanna Hardy, who reminded that a life was lost.
She said that women dying at the hands of their partners is a prevalent occurrence, and asked that the sentence reflect the nature and gravity of the heinous crime committed by Iqbal.
The prosecutor noted that the convict stabbed Basdeo 29 times. She reminded, too, that the incident occurred even though the woman had already moved on with her life.
In a plea of mitigation, Iqbal's lawyer, Keoma Griffith, said that his client was sorry for what he had done and expressed the belief that if given a chance, he would be able to contribute to society.
He said his client was throwing himself at the mercy of the court.
Justice Singh told the 45-year-old that the sentence imposed can afford him the opportunity of returning to society after his release to make valuable contributions.
The judge admonished Iqbal to participate in the prison's anger management programmes before he comes out of prison. Justice Singh pointed out to Iqbal that the whole reason for which he is before the court, is for not being able to effectively manage his anger.
The state's case was presented by Hardy in association with Prosecutor Siand Dhurjon.
The matter was heard at the High Court in Georgetown.
Around the Web