The partially-decomposed body of a 20-year-old man, who was missing since Sunday, was found yesterday morning at Oranges-tein, Parika, East Bank Essequibo, and while it is believed that he drowned, his family suspects foul play.
Dead is Richard Ramirez Ramkissoon, a labourer of Sisters Village, West Bank Demerara.
Ramkissoon is reported to have disappeared in the rough waters where he had ventured with his 19-year-old girlfriend to swim. His body was recovered around 8.30am yesterday.
While there were no visible marks of violence, the police are awaiting a post-mortem examination, which is scheduled for today, to definitively pronounce on how Ramkissoon died.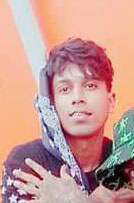 Stabroek News was told that Ramkissoon and his girlfriend were swimming in the Essequibo River in the Bushy Park area. Ramkissoon is said to have put his girlfriend on his back and went into the deep water, where they experienced difficulties. However, he managed to "push her up" and she was rescued by nearby swimmers while he went under the water.
An aunt of the dead man, who wished not to be named, said the family has been receiving conflicting reports of what transpired. She said the family suspects foul play and is calling for the police to conduct a thorough investigation.
The woman explained that Ramkissoon was last seen alive on Saturday afternoon by his father, when he left home to visit a friend. "He buy a drink and cake for his father and tell him he going by a friend," she said.
However, as time passed and he did not return home, his family became worried and started to enquire about his whereabouts.
"He uncle call his phone on Sunday and his girlfriend mother answer the phone and said that he at the station, let we must go there," the aunt said, while explaining that on the way to the police station Ramkissoon's father called his phone and he was told that he drowned.
Ramkissoon, who is a Venezuelan by birth, recently returned with his family to live in Guyana.
Around the Web