President David Granger last evening met with the United Nations (UN) Secretary General's Personal Representative in the Good Offices Process on the border controversy between Guyana and Venezuela, Ambassador Dag Havland Nylander.
A release from the Ministry of the Presidency said that the other members of the high-level delegation were Guillermo Kendall of the UN Department of Political Affairs, David Hutchinson from the UN Office of Legal Affairs and Juan Jeannet-Acre from the Policy and Mediation Division in the Department of Political Affairs.  They were accompanied by acting UN Resident Coordinator and the Joint UN Programme on HIV/AIDS (UNAIDS) Country Director,  Martin Odiit.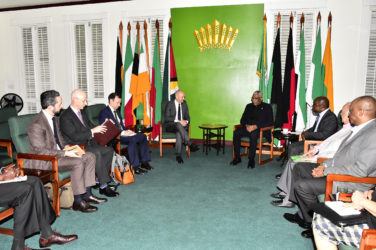 Accompanying the President at the meeting, which was held at State House, were Minister of Foreign Affairs, Carl Greenidge; Minister of State, Joseph Harmon; Guyana's Ambassador to Venezuela, Cheryl Miles; Director General at the Ministry of Foreign Affairs, Audrey Waddell; foreign policy expert Sir Shridath Ramphall, in the role of Advisor, and Legal Consultant, Professor Payam Akhavan.
Nylander was appointed earlier this year to ensure the continuation of the Good Offices Process as laid out by the Secretary General until the end of 2017 with a strengthened mandate of mediation, with the understanding that "if by the end of 2017, the Secretary-General concludes that no significant progress has been made towards arriving at a full agreement for the solution of the controversy, he will choose the International Court of Justice as the next means of settlement unless the Governments of Guyana and Venezuela jointly request that he refrain from doing so".
Guyana has been pressing for a juridical settlement of the controversy with Venezuela that has bedevilled it for decades, thwarting development projects here and characterised by acts of aggression from Caracas. Guyana had also argued that the UN Good Offices process has run for more than two decades without delivering tangible results.
Relations with Venezuela deteriorated sharply in 2015 when Caracas issued a maritime decree intended to claim areas where US company, ExxonMobil had just earlier made a huge oil find. This resulted in Guyana leading a diplomatic offensive against Caracas in the region for the withdrawal of the maritime decree. Caracas later amended the decree but it remained unacceptable to Guyana.
Around the Web