President David Granger last evening stated that the Blairmont sugar estate is among those that will be preserved, the Ministry of the Presidency reported.
Blairmont has been one of the top industry performers and the government had previously signalled that the West Berbice estate and the number one producer, Albion, along with Uitvlugt would be retained in the major shake-up of the Guyana Sugar Corporation (GuySuCo) that is set to occur. It is expected that the Skeldon, Rose Hall and East Demerara estates would be either sold off or shuttered.
The Head of State made the reference to Blairmont while delivering the feature address at the opening ceremony of the Mahaica-Berbice (Region Five) Chamber of Industry and Commerce's Expo and Trade Fair at the Bath Settlement Community Ground, West Coast Berbice.
"We have to produce our commodities more cheaply. Otherwise, we will not be able to compete, whoever is in the Government… We want to save the sugar industry but it must be efficient and competitive… We are not working to destroy the industry. We are working to develop the industry and the industry has been contracting. Some countries like Trinidad and Tobago, Barbados, St. Kitts and Nevis, Jamaica, Belize have seen their industries contract. Some have disappeared altogether because the cost of production was too high.  Guyana is trying to preserve its industry. That is why there will be a Blairmont and that is why there is going to be an Albion and we will preserve as many of our plantations and estates as possible. Uitvlugt will remain but we have to deal with the problems of cost," he said.
A Ministry of the Presidency release said that President of the Chamber, Imran Saccoor acknowledged that the sugar industry in its current state, is a "threat to our national treasury".  However, he commended the Government for preserving the Blairmont Estate, which is the single largest employer in the Region.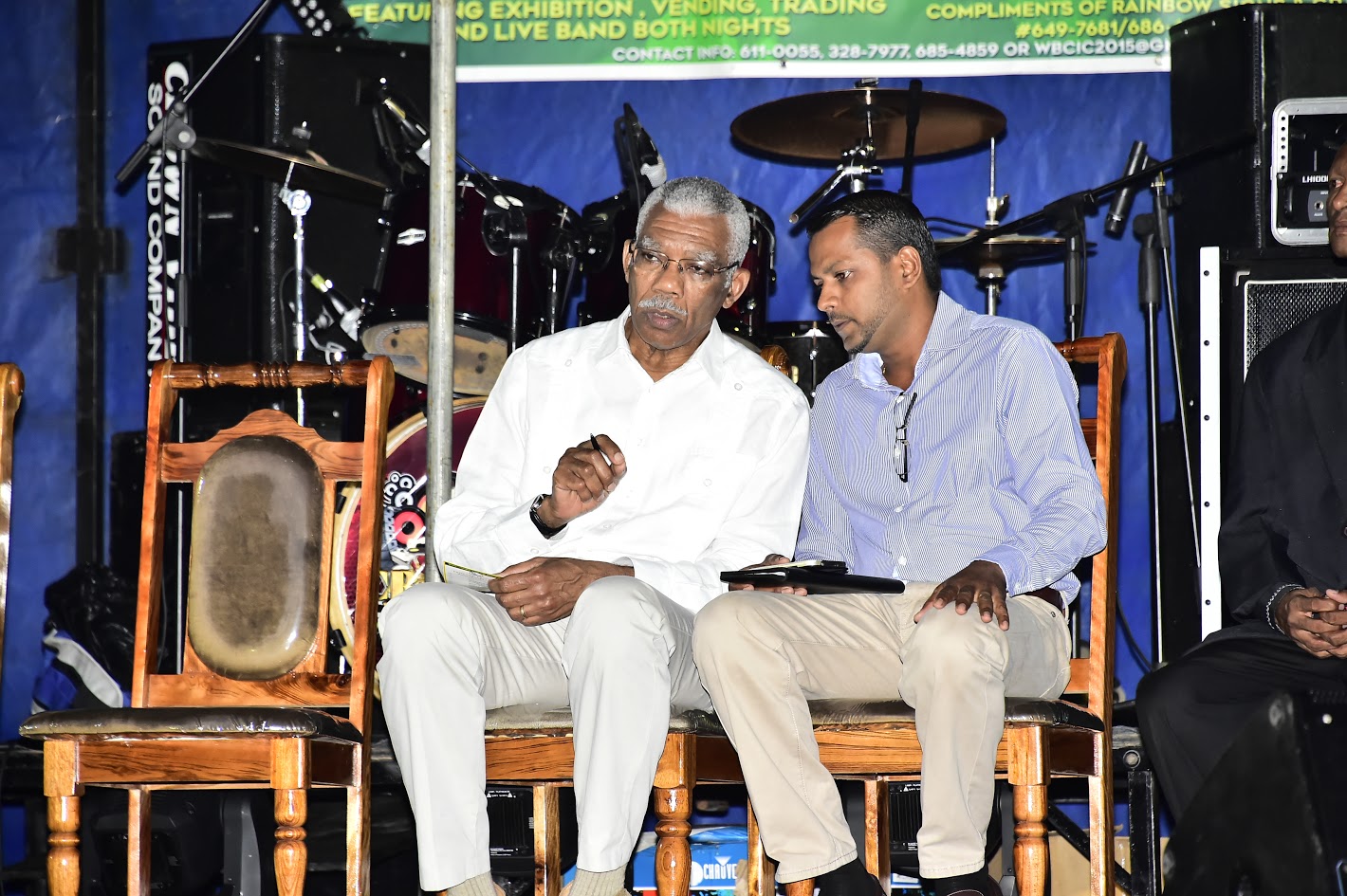 Regional Chairman, Vickchand Ramphal also pointed to the challenges in the sugar industry, as well as a number of others affecting farmers.  He said, "Mr. President many of our residents and farmers of Region Five have heeded to your call to produce more and to develop cottage industries. However, they have been faced with many challenges such as  climate change, increase in prices of agricultural equipment and machinery, increase in land rental and drainage and irrigation fees and in some instances their lands are being taken away".
Granger called on all elected officials to forget party loyalty in the execution of their duties and focus on the development of the region and the country for all Guyanese.
"In months to come, I look forward to seeing the RDC [Regional Democratic Councils] and NDCs working together with the Ministry of Communities and working with the NGOs [Non-Governmental Organisations] to draft this [Regional Economic Action Plan] REAP. We cannot go forward without a plan and we can't go forward without speaking to each other and working together.  It requires an inclusive and consultative approach. The Region must collaborate. This is not a PPP [People's Progressive Party] region or a PNC [People's National Congress] region. This is a West Berbice region…", the President declared.
He added  "This Region is an agricultural powerhouse.  It produced nearly 247,296 tonnes of rice last year, accounting for 46 percent of national production; it produced  28 million coconuts, nearly 1/3 of total national production; it produced 74.7 million kilograms of poultry; 1.6 million kilograms of beef; 281, 000 kilograms of pork; 60,000 kilograms of mutton; 44 million litres of milk; 1,68 metric tonnes of fish and shrimp. No President could ignore such massive production, and let me make it clear, I am here to augment that production. To help you to produce more. And anything that is good for West Berbice is good for Guyana".
The release said that Saccoor supported the call for an export oriented economy, that takes advantage of technological advancements to improve cost of production.  Referencing reports of higher yields in paddy production of up to 40 percent due to the incorporation of spraying and sowing of paddy using aircraft, he said, "We would want to encourage our farmers to look to see how they can advance technologically in farming.  When you advance technologically and invent new initiatives, you end up yielding better results."
Saccoor also called for support from Government for training in marketing and the provision of access to packaging plants.  He also welcomed plans for the expansion of a dairy industry in the region by the Ministry of Agriculture. The Chamber President also commended the reduction in serious crime over the last months during his speech.
Following the official opening of the exposition, President Granger visited the stalls and interacted with the residents of the region.
Around the Web