Instead of direct cash disbursements to every citizen from the country's oil wealth, the government will likely favour disbursing money directly to the regions, which would be more advantageous, according to Minister of Natural Resources Raphael Trotman.
Trotman was questioned by Stabroek News last Wednesday, after a community outreach in Lethem, about whether the government would be exploring the option of direct cash disbursements to every citizen.
Trotman said it is a decision that will have to come from the Ministry of Finance but he believes the government will be in favour of disbursing to the regions directly. "There are advantages and disadvantages to cash transfers, direct cash transfers. There's a programme nearby in Brazil where you don't get the transfer, you have to take your children for example to clinic and you have to show that they are in school, their health and nutrition is up to standards and then you can get the transfer and I think you have to guard against handing out a cheque," Trotman said, while explaining that while the direct cash transfer would be preferred by citizens, there are moral hazards associated with it.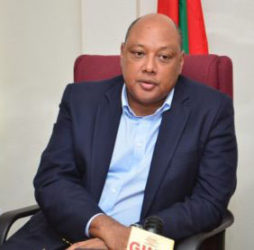 "People just sit back and don't believe they need to do anything but receive and spending habits go bad and I think the government, for now, will favour disbursing to the regions and, yes, we believe Guyanese should benefit directly but it should be tied to something.
It should be tied to you staying in school, to you improving your lives, to you setting aside savings as opposed to some countries where you receive a cheque and can do as you please," Trotman noted, while referencing Trinidad and Tobago's programme of direct cash disbursement.
He said that while there are many incentives for adopting such a plan, when the price of oil drops it is very difficult to maintain the payments. "Now that the price per barrel has dropped, successive governments have found themselves in a serious drop.
The people have grown accustomed to these incentives and, therefore, demand them at all costs and that is irrespective of the prevailing conditions," he added.
Meanwhile, Trotman also pointed out that there has already been a "hive" of activity since the discovery of the oil reserves was announced. "I think anyone who goes around the Marriott or Pegasus will see a lot of expatriates around and I know that they have their scouts looking at schools, homes for renting, cars and so forth. A lot is happening," he stressed.
With respect to the final agreement with ExxonMobil that will incorporate and dictate the amount of local content, Trotman noted that the government is still reviewing the development plan, which is still up for discussion.
He said that while there isn't an exact figure, it all depends on the needs versus what is available in the country. To assist with such, Trotman said they are being guided by a recent needs assessment study. "The study shows that there is a large deficit in terms of the required skills.
On the other hand, I've seen local companies taking initiative. I've mentioned Gaico construction and also a few weeks ago El Dorado Catering was launched at Parc Rayne and more companies are getting involved, so there is an upsurge in oil and gas activity and we are seeing companies taking up the offers and Guyanese have been responding," he said. While there is no set figure as to how many jobs will be created for Guyanese directly and indirectly, Trotman said he expects that several thousand will be affected by 2020 and currently, the last figure shows that some 300+ Guyanese are already providing services so far.
He stressed that whenever the final commitment is made by ExxonMobil, which is expected sometime soon, more persons will start to mobilise.
The number of Guyanese being directly employed will also be heavily affected by the development of the onshore facility at Crab Island, which Trotman said the government is hoping to finish by 2020. "We have received quite a few proposals and presentations were made and one company stands out as being a company we can work with," he said, while identifying the company as Edison Chouest, of New Orleans, in the United States of America.
Trotman explained that the government is moving towards entering a discussion with the company about a possible partnership where it would be the lead financier and work in conjunction with local companies since the government wants to ensure that local companies are given fair opportunity to "participate."
Complementing the onshore facility at Crab Island would be the development of an industrial complex that would be able to use natural gas. While flaring of the natural gas would've been an option several years ago, Trotman pointed out that the government will not entertain that option and is only looking at extracting and selling it or extracting it and bringing it onshore for energy generation.
"We are going to do a bit of both. We are working right now to have models to bring it onshore, more than likely with a pipeline to the coast of Guyana and we are hoping to establish an industrial complex, where we can do more industrial manufacturing with cheap energy and or use some of it as a transition to full 100% renewable energy," he said, while pointing out that the new, cheap energy would make it easier to have an aluminium plant.
Around the Web