Dubbed by the US government as the leader of an extensive mortgage fraud scheme, Guyanese businessman Ed Ahmad was yesterday jailed by a New York court for two years for attempt and conspiracy to commit mail fraud in a case that attracted interest here because of his links to former president Bharrat Jagdeo.
Ahmad had hoped for a non-custodial sentenced after cooperating with the US government in successfully prosecuting former New York State Senator John Sampson but a crucial lapse sunk his chances and Judge Dora Irizarry found him not to be remorseful. During his testimony in the Sampson case, prosecutors learnt that Ahmad had violated the terms of his bond by pledging an encumbered property. There were also questions about the veracity of his tax returns. These transgressions appeared to have led him to jail time.
The New York Newsday reported yesterday that cooperators like Ahmad, who are endorsed by US prosecutors, don't get jail time. In what appeared to be a reference to the encumbered property, Newsday reported the judge as saying "There is a right way and a wrong way…A sneaky way and a forthright way of doing things."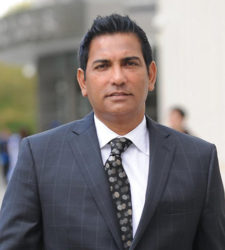 Newsday said that the judge ended by lecturing him about the "blight" his mortgage schemes left in places like Queens' Richmond Hill – where many Guyanese live – and questioning some of his tax returns. "To me that does not show full remorse," the judge said. "What it does show is someone who is still ready to do what he feels he needs to do. Laws be damned, rules be damned."
Ahmad has to surrender to the Bureau of Prisons on June 30, 2017 at 9.30 am. It is not clear if he will appeal.
A New York Daily News report said that Judge Irizarry acknowledged that Ahmad was an asset in the case against Sampson but said she also could not overlook the harm caused by his US$3 million scheme.
According to the report, prosecutors said Ahmad's cooperation with federal investigators in their case against his friend, ex-state Senator Sampson, earned him a shot at a sentence below federal recommendations. While Ahmad's original conviction had a maximum term of 15 years, prosecutors had whittled that down to around six years and had given the okay for the judge to go below this.
Assistant US Attorney Alexander Solomon told Judge Irizarry that Ahmad's co-operation was "impressive," once he started talking. He pointed out that Ahmad was one of "the best at making recordings." He explained that Sampson often spoke quietly and Ahmad would often repeat what was said to aid investigators.
But Judge Irizzary, the report noted, questioned just how useful Ahmad was on the stand and she pointed to articles in newspapers such as the Daily News, where a juror called Ahmad "dirty."
She said she couldn't understand "why the government is giving such short shrift to a blatant breach of the cooperation agreement." Solomon said he wasn't asking the judge to overlook it.
Meanwhile, Ahmad's lawyer, Samuel Kartagener, said he was "taken aback" by the judge's views and urged her to take the good with the bad. "I don't think it suggests Mr. Ahmad should lose all credit for his cooperation here. He is remorseful for the errors he made," he said.
Ahmad also told Judge Irizzary that he meant no harm with the deal, which was an effort to stop a foreclosure on a property. The New York Daily News report said Judge Irizarry wasn't buying that Ahmad – a sophisticated, onetime Lamborghini-driving businessman – didn't know what he was doing. "You knew you had to disclose to the government if there was any transaction on a property," she said.
Ahmad maintained that it was a lapse in judgment. "I never meant to break the cooperation agreement," he was quoted as saying.
Ahmad declined to speak to reporters after the sentencing, while Kartagener said both he and his client were "disappointed with the result."
Ahmad was arrested on July 21st, 2011 in New York on a range of charges but later entered a plea agreement with the government and on October 13, 2012 pleaded guilty to bank and wire fraud conspiracy before Judge Irizarry.
His sentencing was deferred 10 times. He was originally supposed to be sentenced on January 15, 2016.
Scores of Guyanese faced financial ruin because of the actions of Ahmad who reportedly once drove a yellow Lamborghini, sponsored a cricket team and held white-glove parties at a lavish banquet hall that he owned.
"At a prominent intersection near the border of Richmond Hill and South Ozone Park, his smiling face looked down from a large billboard that promoted his real estate services. Many residents responded, taking out high-risk mortgages that they were told they could readily afford," a New York Times report had said at the time of his arrest.
Restitution
Apart from the two-year custodial sentence Ahmad also faces five years of supervised release with special conditions. He also has to comply with forfeiture and restitution orders and make full financial disclosure.
He is also barred from being employed in the mortgage industry and being in possession of a firearm, ammunition or any other destructive device.  The judge also ordered that Ahmad maintain lawful and verifiable employment and to make restitution of US$2,607,854 jointly and severally with Glen Hirsch and Radhika Dhori.
In its sentencing letter, the US government had attached a proposed restitution form for the defendant's sentencing, saying that he has joint and several liability for the US$3.007m lost by various financial institutions.
The judge has now ordered that Ahmad make the prescribed restitution.
These are Countrywide Home Loans/Bank of America to the tune of US$1.043m, Freemont Investment for US$778,841, Option One Mortgage Corporation US$169,719, Wells Fargo Home Mortgage, US$253,020, Decision One Mortgage/HSBC Mortgage, US$112,360, Ocwen, US$190,290, Argent Mortgage/Citibank, US$230,000 and New Century/Deutsche Bank, US$230,000.
The letter had also pointed out that as part of the Ahmad's cooperation agreement, he agreed to pay US$500,000 before the date of his sentencing. Up to the filing of the sentencing letter he had only made a partial payment of US$29,662.18.
According to US court documents, on June 22, 2015, shortly after he was to testify in the Sampson case, Ahmad disclosed that in order to secure his release, he had posted among other real estate, an encumbered commercial property. After he failed to make timely mortgage payments on the property following his arrest, the financial institution holding the mortgage accelerated the terms of repayment, causing Ahmad to fear that the mortgage would go into default. Ahmad then borrowed US$60,000 from a business acquaintance to update his mortgage payments in return for a deed to the property.
"The defendant did not remove the property from the bond or otherwise inform Pre-Trial services, the Court, or the government before participating in this transaction, thus violating the terms of his bond. Subsequently, the financial institution continued to accelerate the default interest rate and consumed any remaining equity in the property. The business associate now owns the property," the US sentencing letter had stated.
Ahmad was further compromised by his testimony about his personal taxes, according to the sentencing letter.
The US Government's sentencing letter had provided detailed information on the mortgage fraud scheme which ensnared Ahmad.
It said that beginning in 2000, Ahmad and other co-conspirators defrauded various lending institutions by acquiring mortgages on properties in the Eastern District of New York and elsewhere through fraudulent means, including by falsifying mortgage loan applications. That bogus information made the borrowers appear to be more creditworthy. As a result, the financial institutions were fraudulently induced to issue mortgages secured by the properties. "In some instances, the co-conspirators recruited individuals (the "Straw Buyers") to conceal the true ownership of the properties. The Straw Buyers posed as the purchasers of properties, which, in reality, were controlled by other co-conspirators. In other instances, the co-conspirators recruited prospective home purchasers with good credit scores but with income and assets that were insufficient to secure mortgage loans (the "Purchasers") to purchase properties. Though the Purchasers intended to purchase and take possession of the Properties, the co-conspirators arranged for some of the purchasers to enter into mortgage loans that the purchasers could not afford.
Prior to his 2011 arrest, Ahmad had been relocating his business to Guyana from New York amid reports that he faced legal troubles in the US. He had set up a hardware business at the Industrial Site premises of the Mirror newspaper.
Questions had been raised as to why the Mirror – the semi-official organ of the PPP – would have rented its premises to him given the questions that had been raised about him in the US. Ahmad had cultivated close ties to several leading members of the PPP/C.
During Jagdeo's term as President, a container of goods from Ahmad was parked on the lawns of State House. There was never a clear explanation as to what these goods were for and the circumstances of their acquisition.
Originally from Leonora on the West Coast Demerara, Ahmad had attempted in recent years to establish a housing scheme there.