Georgetown Public Hospital Corporation (GPHC) department heads on Wednesday highlighted the high volume of referrals to the facility as being one of the key issues impacting on the delivery of effective patient care and overcrowding.
This disclosure was made during an assessment visit to the hospital that was conducted by members of the National Assembly's Sectoral Committee on Social Services, which also heard that the CC Nicholson Hospital at Nabaclis would be upgraded to a regional hospital.
During the visit, the committee members Dr Vindhya Persaud, Dr. Vishwa Mahadeo, and Alister Charlie, who are PPP/C Members of Parliaments, as well as Minister within the Public Health Ministry Dr. Karen Cummings and Minister within the Ministry of Indigenous Peoples' Affairs Valerie Garrido-Lowe and parliamentary clerks, were given a tour of four departments and issues of concern to staff were highlighted to them.
The Accident and Emergency Unit, the Surgical Outpatient Department, the Cardiac Intensive Care Unit and the Paediatric Department were visited.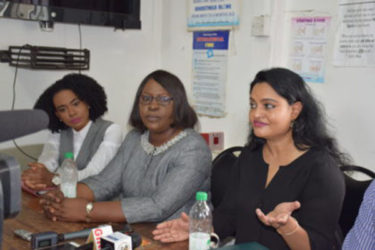 At the start of the visit, Dr. Zulfikar Bux, who heads the Accident and Emergency Unit, said overcrowding was a challenge. His statement was supported by other heads of departments, who pointed out that they have been seeing a high volume of patients daily.
"We do have quite a lot of referrals coming from different areas for various reasons, and it does at some point impact the amount of patients we can take care of…," he said, while adding that "in the week, we have more patients than we have beds. We have a system in place, in terms of an overcrowding plan that works very well, but it is still affecting [us] in terms of efficiency of care and effectiveness….we cannot reject referrals, we have to take referrals."
Bux noted that they see between 150 and 300 patients, while with doctor to patient ratio each doctor would see about ten patients. "So, if you looking at staffing for 24/7, you are looking at 30 doctors to staff the emergency," he said before noting that currently the hospital is equipped with 16 doctors in the Emergency Department and 10 permanent doctors on call per month.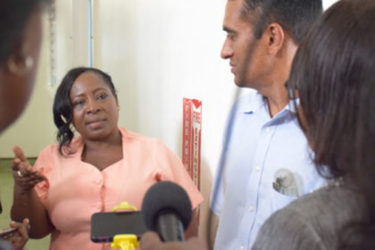 Meanwhile, Head of the Laboratory Dr. Fiona Mohammed-Rambarran also echoed his comments when she spoke about the heavy workload she oversees. She said on a daily basis they would carry out over 2,000 clinical tests.
She pointed out that it is a challenge to get the results to patients on time since many are from the outskirts of the city. "We have a number of results that are stuck here because the patients do not uplift it," she also said, before explaining that in many cases the laboratory would have to resort to passing out results over the phone.
She added that they would be able to upgrade their storage of records once a computerised system is put in place.
Mohammed-Rambarran highlighted that when the hospital is unable to carry out some tests, it is obligated to subcontract them to other agencies.
Doctors pointed out that it was a challenge for them to tend to simple issues, which they said some regional hospitals are equipped to address.
Consultant Orthopedic Surgeon Dr. Fawcett Jeffrey stated that they would like to focus more on fixing fractures but they have to cancel those plans because of the volume patients with fractures. He added that he is unhappy with the fact that hospitals such as the New Amsterdam Hospital would send a patient with a simple fracture for attention at the GPHC. He stressed that in the past the New Amsterdam Hospital was equipped to handle such cases, which are now being referred.
Dr. Jeffrey added that they should consider turning Diamond Diagnostic Centre into a hospital to ease the load of patients being referred.
Maintenance and space
According to Bux and Mohammed-Rambarran, maintenance of equipment is a challenge since staff are not trained to perform the associated tasks.
Mohammed-Rambarran added that because they do not have the expertise to handle the maintenance, they would have to subcontract maintenance work.
Additional issues raised by heads of departments included staff shortages, including a lack of specialty nurses, and periodic drug shortages. It was also stated that that because of the high volume of patients visiting the outpatient clinics, space was also limited. It was recommended that consideration be given to the expansion of the hospital or the building of a new hospital.
According to Dr. David Samaroo, acting Director of Medical and Professional Services, his department caters for patients who undergo same day surgery. He stated that in the surgical outpatient department, limited space for both patients and doctors is an issue.
Dr. Marissa Seepersaud, who heads the paediatric unit at the hospital, said her department requires specialty nurses and while some do adapt, they are still hamstrung by shortages. She explained that it is sometimes challenging to work when they do not have specialty nurses to tend to patients.
Over at the maternity ward, Denise Marks, Senior Midwife, said that while they did not then have any overcrowding in the ward, on many days it is a challenge to find beds for mothers.
She recommended that it would be beneficial if a new hospital is constructed to attend to the needs of residents of Region 4 (Demerara-Mahaica). It was at this point that Minister Cummings said that plans are in the pipeline to upgrade the CC Nicholson Hospital, on the East Coast Demerara, into a regional hospital.
Marks also recommended that the maternity unit be equipped with its own laboratory, including ultrasound and ECG machines.
Urgent need to address drug shortages
At the end of the visit, Dr. Persaud said from what was gathered it seems as if government has not been able to address drug shortages, which have been reported at the various hospitals where visits were carried out.
She added that the need to address the shortage is urgent since a lot of patients depend on the prescribed medication. "If you do not have the medication, obviously care would be affected… if doctors don't have medication obviously there would be a difficulty in patient care," she stressed.
Dr. Mahadeo said that the drug shortage is a systemic problem that needs to be addressed with an all-hands-on-board approach. "It would not be fixed tonight or tomorrow or next week… we have to find the gaps and identify the loopholes," he said.
Minister Cummings, however, noted that despite the shortage of drugs, quality health services are being provided. She also noted that the government has been advocating the practice of preventative rather than curable medicine.
Touching on the staff shortages, Cummings also said that the government is working to improve the nursing school to allow for larger intakes. GPHC Hospital CEO Allan Johnson also said that the hospital is engaged in discussions with the University of Guyana to offer a nursing degree programme.
Dr Persaud recommended that the hospital meet with the administrators and discuss the programmes they would like to see offered to meet the hospital needs.
She also said that she wished the committee would have been able to meet with more staff members to have their input on issues affecting them. "Whenever you are going to implement something, it is always good to know from the people who are in the system what is needed; they work every day and know the needs of patients and themselves," she said.
Around the Web