A team from the Inter-American Development Bank (IDB) yesterday paid a courtesy call on Minister of State, Joseph Harmon for an exploratory meeting, which was also attended by Minister of Natural Resources, Raphael Trotman and Presidential Advisor on Petroleum, Dr. Jan Mangal, at the Ministry of the Presidency.
A release from the Ministry of the Presidency said that the team is exploring the possible roles that the IDB could play in supporting Guyana's emerging oil and gas sector and included the IDB Representative in Guyana, Sophie Makonnen, Lead Oil and Gas Specialist in the Energy Division, Ramon Espinasa, Economist- Energy, Lenin Balza and Consultant in the Energy Division of the Infrastructure and Environment Section, Carlos Sucre.
During the meeting, the release said that Harmon relayed that he and Trotman are both members of a team appointed by President David Granger to advise the Cabinet on matters related to this sector. He noted that the team is led by Trotman and includes Minister of Finance, Winston Jordan; Minister of Public Infrastructure, David Patterson; Minister of Business, Dominic Gaskin and Dr. Mangal.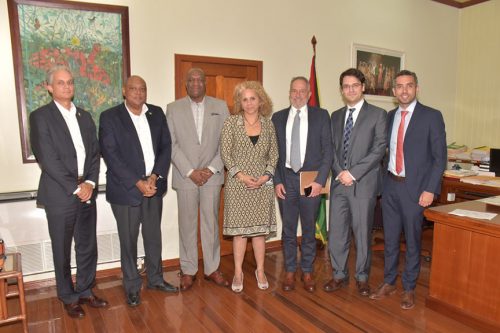 Espinasa advised the ministers that it is essential for the Government to determine how it wants to manage the resources, and that it must ensure contracts are well drafted to ensure the best possible deal for the country, the release stated.
"We are here to support with whatever you need, most probably with what we call technical assistance, and this is concessionary support, and eventually, if that is the case, a loan of different amounts for creating the proper institutions," Espinasa said.
Trotman thanked Espinasa for his presentation and noted that the IDB has set out different steps that the Government must carefully consider. "We have had similar presentations made to us and I believe that we are in the process of defining or compartmentalising, who does what," he said.
Around the Web