"If I had known it was an offence to say I was an only child, then I would not have done it," East Ruimveldt resident Madison Baird Sampson yesterday told a city court, which fined her a total of $200,000 for falsely claiming she was only child so that she could sell her deceased mother's house.
Baird-Sampson, 44, of Lot 10 East Ruimveldt Housing Scheme, appeared before Chief Magistrate Ann McLennan on two charges, to which she pleaded not guilty.
The first charge stated that on October 23, 2004, at Georgetown, Sampson swore a false oath in an affidavit in the matter of the estate for Lilith Duncan, her deceased mother, where she stated that Duncan only had one child.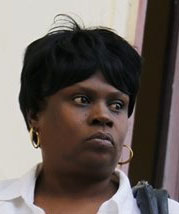 The second charge stated that on May 10, 2005, the accused went to the office of a commissioner to oaths and made the false declaration that she was the sole beneficiary of the estate of Duncan, knowing same to be false.
Police prosecutor Arvin Moore told the court that on October 23, 2004, Baird-Sampson went to Commissioner to Oaths Michael Waithe and applied for an intestate land title, which was granted, on the grounds listed in the affidavit, which stated that defendant was the only child of Duncan. The prosecutor further stated that on May 10, 2005, Sampson went to the very Commissioner to Oaths and swore to information to sell the property of Duncan, while stating that she was the sole beneficiary of the property. She later sold the property for $1.4 million.
When asked if she had anything to say, Sampson told the court that she swore to the false information because she alone is in Guyana, while her brothers and sisters are in the United States. "I had two other houses to care for," she said, "and no one to help." Sampson added that the only way to get the burden of the house off of her was by selling it.
Subsequent to the woman's explanation, she was fined $100,000 on each charge with an alternative of nine months in jail if she cannot pay the fines.
Around the Web