Members of the STEMGuyana team, having adeptly represented the country at the just-concluded First Global Games, where they finished in 10th position, received a warm welcome upon arriving in Guyana on Wednesday night.
Guyana was represented at the robotics challenge by Ryan Benschop (team captain), Vevekeanand Ramnarace, Christopher Nelson, Anthony Frank, Arrianna Mahase and Sahief Poese. The mentors were Coach Ricky Chan; team manager Farnaz Baksh; and PR Specialist Horace Mosley. The students hail from the Univer-sity of Guyana, Diamond Secondary School, Bishops' High School, Nations Sixth Form College, the Government Technical Institute and Buxton Secondary.
The young engineers were greeted by music from the Buxton Steel Orchestra band when they arrived at the Cheddi Jagan International Airport, where they were met by the First Lady Sandra Granger, the Director of Sport Christopher Jones and numerous supporters.
While the members of the team related that they had been informed of a planned welcome, they were not prepared for its scale, and so were quite shocked and overjoyed at the magnitude of the crowd that turned out to receive them. "We were of course overjoyed to see the turnout of our supporters in one room and just cheering us on with the pride of champions!" Ramnarace said in an interview with Stabroek News yesterday.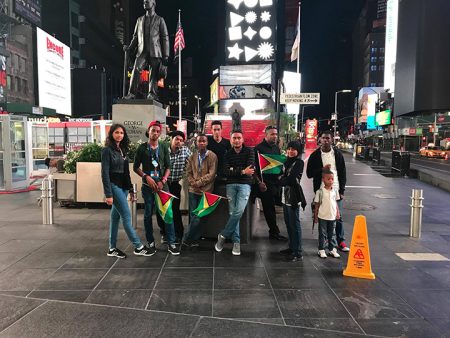 The team was one of among 165 that competed in Washington, D.C, over two days at the inaugural global robotics games on Monday and Tuesday.
As competitions go, it was not an easy but the team, in the rookie phase compared to some of its competitors, managed to start off in first place in the first few rounds of the competition but eventually finished within the top 10.
The members of the team overcame numerous hurdles, including technical difficulties experienced by their team as well as the other teams they were allied with and sacrificing time leading up to a match to help a member of their alliance rebuild their robot.
Supporters on social media had commented that Team Guyana was being unfairly paired with weaker teams as the competition progressed, but the members of STEMGuyana were quick to defend the process, with Mahase stating that while she accepts that they were paired with weaker countries, she did not believe it was unfair.
Co-founder of STEMGuyana Karen Abrams also shared this sentiment, stating: "The game of life doesn't always pair you with strong teams, so we have to learn how to navigate and achieve with the hands that we're dealt. Team Guyana did that well."
Koker design
The game, "H2O Flow," which was played over six rounds by differing combinations of three-country alliances, in concept, required the teams to "solve the problem of access to clean water" by separating water and contaminant particles from a stream. Each team was provided with the kit a few months before the actual competition, and could build the bots using only what was supplied.
"One of the main challenges in building the robot was to design a system for it to lift itself off the ground from a bar. We realised early on that this was vital to our success in the competition, and put much thought into it. We went through many different designs and setups, but it all came down to one issue, as Arianna said, the bot was too heavy for the motors to lift, and they kept damaging constantly. We knew we had to design the mechanism in some way that allows a small motor to lift a very heavy object," Benschop explained.
Quite notably, the team was able to draw inspiration from close to home. Its solution to the problem they encountered was to build a replica of the koker system.
"After much thought, the koker came to mind, and it begged the question – how can just one or two persons lift a koker weighing several hundred pounds? So, we made a trip to a few kokers around town, and there learnt much about gears, and how they can be used to make a heavy object be lifted almost weightlessly. We implemented an almost identical design in our pull-up mechanism and, due to this, were able to create a perfect system that earned us a massive amount of points throughout the competition," he added.
Team Guyana had been working to implement this system on one of its teammates' robots just up until round 5 of the competition. Unfortunately, they were not able to complete the bot before the start of the match and this cost them greatly in the penultimate round.
'A formidable player'   
"We have learned many invaluable lessons both about robotics and even life in general, and what it takes to be successful. We've developed skills in useful areas, such as teamwork (this, for me, was the heart of the competition), problem solving (especially under pressure), time and resource management, and, I think most importantly, determination and the attitude of never giving up," Benschop said of the experience.
He noted too that the team was able to build global connections after breaking language and culture barriers and said the experience has "done very well in strengthening our confidence as a nation in an area in which it is much needed."
"We've proven that Guyana can be a very formidable player in robotics, and tech as a whole, and I think our experience will inspire such an attitude in many Guyanese and help to pave the way for much development and progress," he added.
Asked whether they felt in the least intimidated among the other groups given that their team went into the competition with only four months' experience under their belt, the members related that while they were nervous at first, those fears later subsided once they had the opportunity to assess the competition.
"Given that we were new to robotics whilst preparing, I was nervous but planned on giving nothing less than the best I can possibly give. However, after checking out different robots and comparing their performance to ours even after only the first round, I think the level of confidence skyrocketed for our team," Mahase said.
"We found out we have nerves of steel even with two hours' sleep," teammate Poese added.
"The entire experience was a very enchanting one…very amazing to be a part of. From making the robot, with all the different ideas being pitched and tests being carried out, it was truly mentally and physically demanding…but we were able to make number one and remained in the top 10 of the entire world, so all in all, I feel very proud having one of the best bots and amazing teammates to highlight us on the map," Ramnarace stated.
Relating STEMGuyana's plans for the future, Abrams said that the roster of upcoming activities include school tours, exhibitions and a national drive to encourage the establishment of STEM clubs throughout all regions of Guyana.
Presently, the count stands at around 10, with clubs existing at the University of Guyana, Kuru Kururu, Lusignan, Buxton and President's College.
There are also plans to establish leagues for Mathematics, robotics and Scratch programming competitions between the clubs.
"We want to encourage creativity, innovation and strengthen logical reasoning and problem solving skills in many more of Guyana's youth," Abrams stated.
Around the Web