The Police Complaints Authority (PCA) is investigating the shooting of an Agricola, East Bank Demerara resident whose family says she was wounded by police during a shootout.
Parmadai (only name), of 124 Caesar Street, Agricola, was shot during a shootout between lawmen and two bandits on July 11.
It is, however, yet to be established if the shot that struck Parmadai was fired by police or the bandits, although both her family and residents of the area say it was the lawmen who were wildly firing during the encounter.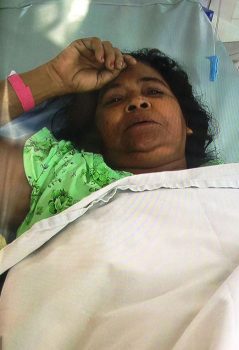 Parmadai was in her hammock when she was struck twice; she sustained a shot in her buttocks and on her left hand. She was rushed to the Diamond Diagnostic Centre, were she was treated before being transferred to a private hospital for medical attention.
The woman's daughter, Elietha Heeralall, on Friday told Stabroek News via telephone that investigators from the PCA visited her parents' home on Tuesday and took statements. She explained that both her mother and father provided detailed statements.
Heeralall went on to say that the investigating officers indicated that they were awaiting a medical report to proceed with the investigation. She noted that the report would be delivered to the police on Monday.
According to Heeralall, her mother remains in severe pain as a result of the injury. "She cannot do anything not even walk. But doctors say that within a month, the wound should be able to heal and hopefully she gets to move about," she added, optimistically.
Additionally, she noted that a bullet is still lodged in her mother's left hand and because of the way it is positioned, the doctors are unable to remove it as this could damage the nerves in her hand.
A police statement had said ranks went to Fourth Street, Agricola and were confronted by two armed men; one had a sawn-off shotgun and the other had a handgun. As the police ranks approached the suspects, they "opened fire on the lawmen who adopted tactical positions and returned fire; during the exchange, the suspect with the shotgun was injured."
The woman's husband, Heeralall Gopie, said shots were fired through his premises after the suspects used his yard as an escape route.
He went on to say that the police were blaming a bandit for shooting the woman while everyone else said it was the police who shot her and that they could identify the officer.
According to the man, during the exchange of gunshots, bullets hit a galvanised sheet on his shed and a post that was holding up the shed. He noted that shots were fired continuously as they tried to put his wife into a vehicle to transport her for medical attention.
Around the Web