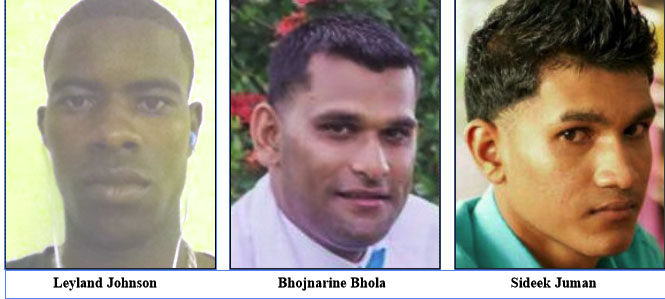 Bhojnarine Bhola, 29, manager of Double Day Hotel at Tuschen, East Bank Essequibo and his driver, Leyland Johnson, 26, walked free yesterday following the conclusion of the trial for the 2012 murder of Sideek Juman.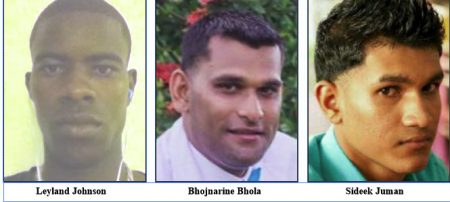 The body of Juman, a mechanic, was pulled from the hotel's pool on November 19, 2012 and Bhola and Johnson were arrested with his murder on December 1, 2016. According to the charges, the alleged murder took place between November 18 and 19 but after the cold case was opened up, the men were arrested in November 2016.
The trial, which commenced at the Leonora Court on March 2, concluded yesterday.  Magistrate Rushell Liverpool discharged the case against the men due to a lack of evidence.
Reports are that the matter occurred between November 18 and November 19, 2012 and although statements were taken then, "fresh statements were taken again in November 2016."
Attorneys-at-law, Sandil Kissoon and his father Jailall Kissoon represented the men, but Sandil's younger brother, Satyesh Kissoon took over the matter after Sandil Kissoon was appointed a judge.
Reports are that the magistrate also found that the prosecution did not make out a prima facie case.
The men were taken into custody on December 1, 2016 and the trial, which was done by paper committal, commenced on March 2. One main witness was called to give evidence, along with the police and pathologist.
The post-mortem examination found that he died from asphyxiation and that "blunt trauma to head" also contributed significantly to his death.
But the arguments put forward to the court were that his injuries could have been sustained from Juman plunging in the pool.
At the time of the discovery, there were visible marks of violence about his body and his head was swollen.
His relatives were convinced that he was murdered since his personal belongings, including his clothing, which he had removed before taking a dip, his smartphone and his wallet were missing.
Around the Web