Karamchand Parbhudyal, the Crabwood Creek labourer who went missing during a fishing trip last Saturday, was found dead in the Corentyne River between the Number 73 Village and Number 74 Village yesterday morning.
The body of Parbhudyal, also known as "Dharo," 52, of Grant 1651 Crabwood Creek, Berbice, was discovered around 8 am by his son-in-law and relatives who were searching for him.
Parbhudyal's friends, the three fisherman who were also on the trip, remained in custody up to yesterday afternoon assisting with the ongoing investigation.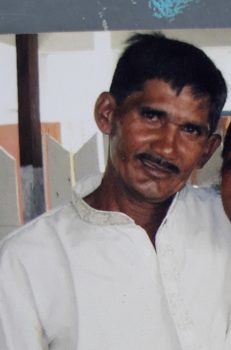 Tanuja Parbhudyal, 26, the man's daughter, said that his body was found in the "deep part of the river, between 73 to 74 area." According to the distraught woman, her father's body did not bear any marks of violence. "I see the body. It just had some black and blue on he neck like from the sun and it [the body] swell up," she said.
Parbhudyal's body is presently at the Skeldon Hospital's mortuary awaiting a post-mortem examination.
Tanuja, in a previous interview with Stabroek News, had explained that her father left home for a friend's house early Saturday morning. She had noted that it was usual for the man to hang out and drink with friends whenever it was his day off from work.
However, she had then relayed that around 2.30 pm on Saturday, she was told that her father "went to go catch fish and na come back, that them man say how them na find him."
She said that she then spoke to one of the persons who was also on the fishing trip and was told, "Them left he a stand up about one house lot away and them a reverse with the boat and engine a throw out the line and when them left with three or four hooks to throw out them say when them raise back them head them couldn't a find he," she related.
Parbhudyal, a father of two, was said to have been drinking with his friends before they headed out to go fishing.
He was described as a talkative person who was always nice to neighbours.
Around the Web