A pensioner who was struck down by a truck yesterday morning on the  Houston, East Bank Demerara  (EBD), Public Road died after waiting approximately 45 minutes for an ambulance to be transported to the public hospital.
Sixty-nine-year-old Chitraykha Sankar of Lot 61 Houston, EBD was hit by  a truck with the licence number GMM 6594 sometime around 7 yesterday morning as she was crossing the public road. Sankar was pronounced dead on the scene of the accident by emergency medical technicians.
A surveillance video shown to Stabroek News showed Sankar getting off a bus on the western side of the road. The woman after getting off the bus waited for the traffic to clear before crossing. As she approached the partition on the four-lane public road she was struck down by the truck registered to K&G Shipping.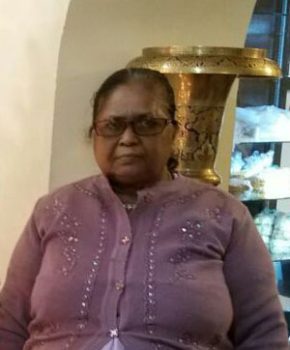 From the video, the woman was around three steps away from the partition when the truck which was proceeding at an apparently fast rate struck her down.
She was pinned under the truck and was removed by first responders after the truck came to a stop.
Stabroek News was told that the driver of the vehicle is currently in police custody assisting with investigations.
Benita Sugrim, a family friend, told Stabroek News that when she arrived on the scene a crowd had already gathered.  She explained that the woman was still breathing and they attempted to stop several vehicles to take the woman to the Georgetown Public Hospital but no one offered any assistance.
She stated that after no one stopped to offer assistance in transporting the woman to the hospital, contact was made with the emergency medical system and an ambulance was dispatched.
Surgim added that they asked  members from the Guyana Defence Force to assist in carrying the woman to the hospital but the vehicle drove away.
Sankar, a mother of seven was returning home from her daughter when the vehicle hit her.
Sugrim said that her father who witnessed the accident had to shout loudly at the driver of the truck to alert him that he had struck the woman down.
It was after he was alerted that the driver stopped the vehicle and the woman was pulled from under the truck.
Around the Web