While saying that a strong security presence along the country's borders is the first line of defence against transnational criminal syndicates, President David Granger yesterday called for cooperation by all actors to see the security of Region Nine as a priority.
"We have, collectively, to do everything possible to protect our Guyanese way of life… These criminal syndicates are rich enough to corrupt public officials, rich enough to get young, impressionable people to get involved in criminal activities. I see our borders, therefore, as the first line of defence against transnational crime. If our borders are not secure we could become a lawless state in which people bring huge criminal syndicates into our country and actually resist the law enforcement authorities," Granger was quoted as saying by the Ministry of the Presidency at a community meeting in Lethem, Region Nine, where he spoke to security forces and other stakeholders.
His visit came on the heels of the discovery of an abandoned twin-engine Beechcraft aircraft on an illegal airstrip in the region.
In a statement issued last night, the ministry said the president used the opportunity to point out that porous borders create avenues for pirates, people traffickers and smugglers to perpetrate crimes that thwart efforts at public safety and societal stability. "Drug gangs will come into our country; illegal migrants will come into our country. These elements are not friendly to us. They will jeopardise the safety of your own women and children and of your own communities. They will bring guns, violence and drugs into our society, they will change our way of life and that is why border security is so important to protect our way of life," he said.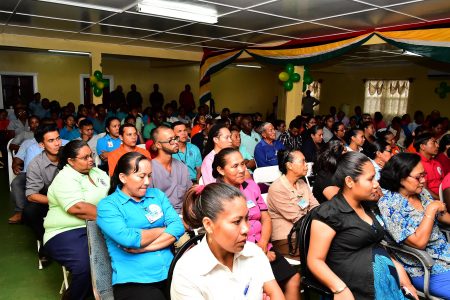 "I take security very seriously because without security, this country cannot develop. There are few individuals, who are holding this country back. The bulk of the people want this country to move forward. We are not a criminal nation but there are a few criminal people, who are holding us back and I am going to find them and put them away because they are holding back the development of a great people, a great region and a great nation," he added.
Outlining his policy for Total National Defence, the statement said the president told ranks of the Guyana Defence Force (GDF) at Base Camp Kanuku in Lethem to remain vigilant at all times so that they can prevent intrusion into the country's air and land space by foreign elements. He also made it clear that every section of society has a role to play in matters of safety and security and added that the re-establishment of the Guyana People's Militia is in keeping with that vision as every region will have a component that will be capable of rendering both military and civil services. Additionally, he noted that each region will have its own police division, which will be better able to secure the capital towns that have been created.
"There must be some means of collecting and passing information from the district, to the municipality, to the region and from the region, to the Central Government level… So when we speak of Total National Defence, we don't only speak of a horizontal distribution between the Defence Force, the Militia and the police, we also speaking about vertical integration between the central, regional, municipal and the local levels. Every citizen has to play a part in this architecture of national defence. I am calling on all of these organs, the private sector, the non-governmental organisations, the ministries, the security forces, the Government departments, the municipality and the region to look at the security of this region as one of its top priorities," he said.
The ministry noted that Guyana has a total of 181,587 square kilometres of borders with Brazil, Venezuela and Suriname. These extensive borders, coupled with large tracts of uninhabited lands and a low population density, particularly in the hinterland, makes patrolling and policing a daunting task for an already small security force. The president said that these challenges, are what non-state, transnational criminal syndicates are seeking to take advantage of.
He called on security forces and the regional authorities to ensure that Guyana's economic wealth and natural resources are not illegally exploited and exported; to clamp down on illegal mining, immigration and fishing; to safeguard the country's sovereignty and territorial integrity and to work to prevent transmission of vector-borne and epidemic diseases, which like crime, can also have devastating impacts on the population and national development as a whole.
The statement said the president also stressed on the importance of proper infrastructure in the hinterland and deeper cooperation with international agencies and bilateral partners to combat crimes such as narco-trafficking, gun-running and illegal over-flights and incursions by aircraft into the country's airspace and territory.
After the stakeholder engagement, which was held at the Indigenous People's Conference Hall in Lethem, President Granger convened a meeting with Regional Chairman Brian Allicock, Lethem Mayor Carlton Beckles, Guyana Revenue Authority representative Satish Basdeo, army Chief-of-Staff Brigadier Patrick West, British Security Sector Reform Advisor Russell Combe and Divisional Commander Ravindradat Budhram to discuss critical security-related matters. Minister of Indigenous Peoples' Affairs Sydney Allicock and new Minister of Public Affairs Dawn Hastings-Williams were also present.
Around the Web