The Central Housing and Planning Authority (CH&PA) will not be intervening in any arrangement made between a home owner and a contractor since it is viewed as a private agreement, Chief Executive Officer Lelon Saul said while issuing a  call for regulations to govern contractors.
Saul was at the time responding to a question posed to him in relation to the substandard work carried out on the home of Althea Thegg which saw sections of the building collapsing.
"We at CH&PA view the case you are referring to, as private agreement with the contractor and home owner…" Saul said.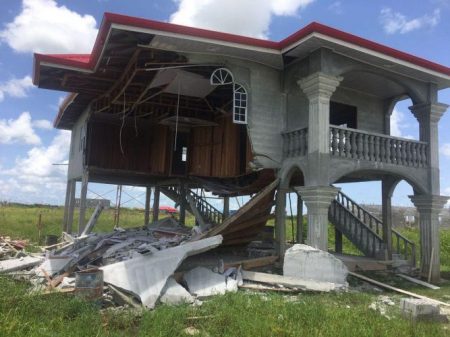 He believes "it is time for us in Guyana to have proper regulations so we can govern our building contractors."
The newly constructed home of Thegg began to crumble on August 2nd.  A perimeter column first broke away followed by the walls and flooring of the house.
Based on the experts' opinion the mixture of sand, stone and cement that was used was not up to standard, resulting in the collapse.
Building experts who were brought in to assess the structural integrity have advised that Thegg's property, located in Phase Two, Farm Housing Scheme, East Bank Demerara, be torn down due to poor construction.
The distraught woman explained that she has spent approximately $9 million for the construction, which was financed through a bank loan. Construction of the house started in April and she noted that it was almost completed.
The woman said she bought all the materials the contractor asked for. "I did the shopping on his advice. What he asked for, I bought. This is not a case of cutting costs, I supplied all the materials he and his workers asked for. And now for this to happen, I don't know what to say…," she lamented.
According to Thegg, she has not heard from the contractor since the building began to collapse. However, she wants justice. She said she is prepared to take legal action against him, while noting that contractors never take the blame for the bad work they put out.
Meanwhile, General Secretary of the General Contractors Association of Guyana, Neil Cort Rogers says the builder should be held responsible since the work done was shabby.
"After the visit it came down to bad construction that is the bottom line. What I have uncovered was that someone who thought they had experience [constructed] the house. It can be seen that there was a lack of common building knowledge and technical knowledge was totally absent," Rogers highlighted.
Rogers stressed that in his view, the construction of Thegg's home was done by someone who had little to no experience in the trade and "he worked with someone in construction and then said they had the experience."
He had also said his association would be making recommendations to the CH&PA to introduce a licensing system for contractors.
Around the Web