The US$46.M West Coast Demerara Road Improve-ment Project is 75 percent complete according to the Ministry of Public Infra-structure, Senior Projects Engineer, Kester Hinds.
Hinds told the Department of Public Information (DPI) that despite challenges and adverse weather, the project which started in March 2015, seeks to improve efficiency and safety of road transportation for the approximately 30.7 kilometers of the West Coast, Demerara thoroughfare from Vreed-en-Hoop to Hydronie.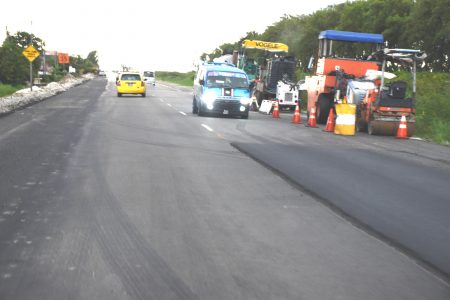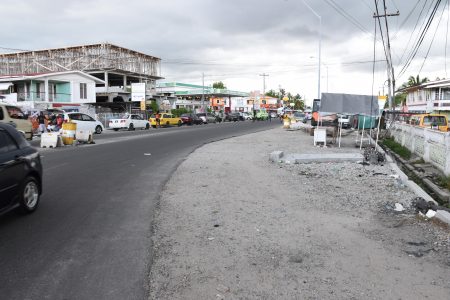 Hinds said that the stretch of road closer to Parika is finished, and the team is in the process of 'overlaying'. An overlay is any operation that consists of laying either Portland Cement Concrete (PCC) or Hot Mix Asphalt (HMA) over an existing pavement structure.
On a recent visit to the West Coast, DPI said that it was evident that many roadways west of Vreed-en-Hoop have benefitted from bridge replacements and repairs, drainage and road safety works, pavement markings and safety barriers along severe curves.
The Senior Projects Engineer said, according to DPI  that works are well underway, despite being delayed in March to facilitate the relocation of the Guyana Telephone and Telegraph (GTT) and the Guyana Water Incorpora-ted (GWI) ; plus being affected by inclement weather.
A significant portion of the road has been completed, and final works are being carried out. These include final overlaying, construction of road shoulders and grading of pavements for cyclists and pedestrians. The works are being carried out by Jamaican engineering company, Surrey Paving and Aggregate, and local construction company, BK International.
DPI said that works are also ongoing at Vreed-en-Hoop from the junction to the stelling.  The project will see a junction at Vreed-en-Hoop which will allow for two east bound lanes. These works are 'substantially' completed Hinds noted.
The West Demerara road expansion is financed by the Government of Guyana, the Caribbean Development Bank and the Inter-American Develop-ment Bank.
Around the Web