President David Granger on Monday evening commissioned three new 35-seater buses, which will serve schoolchildren in the north and south areas of Georgetown under the 'Boats, Buses, Bicycles plus Breakfast and Books' or Five 'Bs' programme.
The President commissioned the buses at a ceremony held at D'Urban Park.
In an address to residents of Georgetown, who gathered at the venue, the President said: "We see education as the gateway to the good life. We see that by providing these buses, boats and bicycles that we will improve access to schools; we will improve attendance and in so doing, we see improved achievement. We want to see 'A' students and those are the 'A's we are working towards today [access, attendance and achievement]. We have made transportation easier for children and we want to create a more equal society so that they children in Mabaruma, Jawalla and Aishalton would have an equal opportunity to education as the children in Sophia, Industry or Cummings Lodge".
The President said the buses will not just be transporting school children, but the future engineers, scientists, entrepreneurs and pioneers.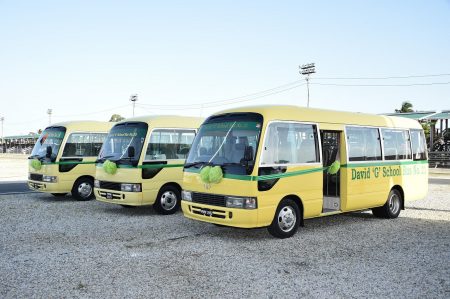 "You don't need to bring foreigners to process your bauxite. You don't need to bring in foreigners to manufacture products from timber or gold. You can have the education to do it yourself in due course. Gradually, year after year I want to see more Guyanese doing the same things that the foreigners have been doing for the last 100 years.  It is the children, who will be going to school in these buses, who are going to be controlling our petroleum industry 10 and 20 years from now. I want to see a nation of owners not a nation of observers; owners of our resources. The owners will be the educated people that we will be sending to school in these buses. I want to see rich Guyanese, not poor Guyanese. I want to see independent thinkers, not dependent workers," he said.
Granger added that his administration will not be deterred from its mission until every Guyanese child is in school and stays in school.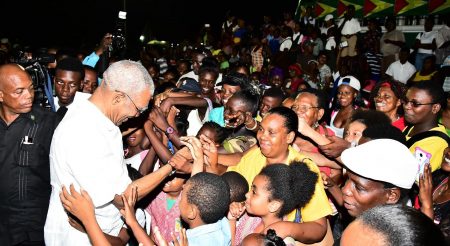 "I give money to schools, which have science facilities and laboratories and I don't care about race. Don't care about location. I don't care about religion. Hindu schools, Muslim schools, Christian schools have gotten money and as long as you are teaching Guyanese children, you will get money for science and technology. Guyanese you are living in the largest CARICOM state, the most beautiful, the most bountiful, but yet the largest region in Guyana; the Rupununi does not have a proper highway. Our rivers do not have proper stellings.  Some of the aerodromes need repairing and refurbishing. Who will do it? Foreigners, no! We have to train a generation of Guyanese engineers and mathematicians; children, who 10 or 20 years from now who will be going in these buses will become our engineers," he said.
Granger expressed gratitude to the donors to the programme, noting that it is heartening to see so many persons becoming involved in the mission to educate every Guyanese child.
"I would like to thank the donors because these buses did not come from state funds. These buses came from citizens with a conscience; private citizens who want to see the best for Guyana's children," he said.
Minister of Social Protection,  Amna Ally, who has been coordinating the Five 'Bs' programme, said, according to the release, "This programme has become extremely successful because now we are bridging the education gap between hinterland and coastal regions by providing improved access to transportation for school children to get to and from school. Students are now able to get to school on time and parents are no longer burdened with transportation expenses. No longer will education be a distant dream for your children because they reside in rural or hinterland areas or because you cannot afford transportation cost. Under the David Granger Five 'Bs' programme we will ensure that all our children continue to have access to transportation," she said.
Tonya Albert, a student from the South Ruimveldt Secondary School, in her remarks, expressed gratitude to the President and Govern-ment, the release said. "I am overjoyed because the nation's children are part of this Government's plan. This is a huge investment in our education. This action of yours will support student development and stimulate their desire to contribute to the growth and prosperity of Guyana. As we travel to school for the new school term, we will be committed, determined and focused in our pursuit of excellence. On behalf of the nation's children, I stand here to say thanks to you and all other stakeholders involved in making this dream a reality. Thank you for investing in our education to ensuring that we can get to school," she said.
Around the Web