Basil Rambarran, the cyclist who was in an accident on the Herstelling Public Road on Tuesday afternoon died as a result of multiple injuries, according to an autopsy report.
Public Relations Officer of the Guyana Police Force Jairam Ramlakhan confirmed the findings with Stabroek News.
He said the minibus driver, a 44-year-old resident of Soesdyke Back Road, who was found to be exceedingly above the legal alcohol limit following the accident, remains in custody.
He is likely to be charged soon.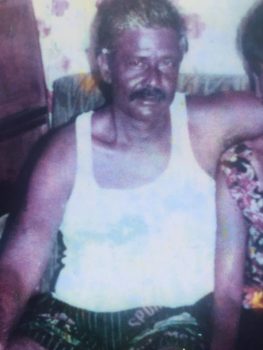 The accident occurred around 4.45 pm on Tuesday and Rambarran called "Rambo", 66, a labourer and security guard of Lot 56 Farm Squatting Area, East Bank Demerara (EBD) was pronounced dead on arrival to the Diamond Hospital.
The police in a press release said that the driver was proceeding south when Rambarran allegedly rode across the road from west to east and collided with the front of the vehicle.
As a result, he fell onto the road  and sustained injuries. He was picked up and rushed to the hospital.
Rambarran's wife, Agnes (only name given), told Stabroek News yesterday that she last saw him alive on Tuesday morning when he left home for work. She said, he would normally return around 5pm every day but after that time passed on Tuesday she became worried.
A few minutes after, Agnes said she received a call from her sister informing her of the accident. "Is wait I did waiting on he (Rambarran) and then meh sister call and say that he get knock down on the road", she said.
As a result, Agnes said she and a friend immediately left for the hospital. However, by the  time they arrived, Rambarran was already dead.
At the time of the accident, Rambarran was making his way home on his bicycle.
Around the Web