Members of a Better Hope South, East Coast Demerara (ECD) family lost their home and business on Thursday morning to a fire, which is believed to have been set by a child playing with matches.
The fire started at about 11.45 am and destroyed the two-storey wooden structure located at the Lot 181 Better Hope South, ECD, which was occupied by eight persons, including four children.
The family's grocery store, which was situated in front of the house, was also burnt.
Two nearby buildings, including a church, were also scorched as a result of the fire. However, quick action by members of the Guyana Fire Service managed to prevent the fire from spreading further.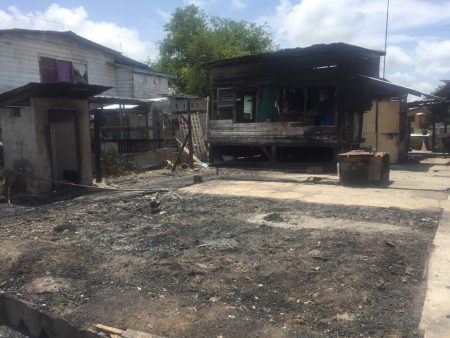 Owner of the house, Lennon Marshall, a construction worker, said he was at work when he received the news of the blaze. He said before he arrived at the scene, the entire house was completed gutted.
No valuables were saved and losses are estimated to be about $4 million. Among the items destroyed were a quantity of cash, several electrical tools and important documents, including passports, ID cards and driver licences.
"We had a lot of stuff, two generator… and a lot of electrical tools…. everything gone and then we had the shop. So, everything went up in flames," Marshall said, before adding that the livestock that was being reared by the family in the backyard did survive the fire.
The Guyana Fire Service has launched an investigation into the fire, which is suspected to have started after a mattress was set alight.
Marshall said that at the time of the fire, his wife, Jocelyn Marshall, and one of his grandsons were the only persons at the home.
He said based on what he understands, Jocelyn, who usually runs the grocery shop, sent their grandson to sleep inside the house. A few minutes after, she saw thick smoke coming from the bedroom area of the bottom flat of the house. "After she send he inside and she smell the smoke from the shop, she see the whole mattress in flames and by time she go to see and run to the drum with water, the whole place engulf," he said.
The Marshall family is currently staying at a relative's house. Marshall said he would be grateful for any assistance, such as some building materials, so that he can at least start rebuilding. "Right now, we hoping we can get help from somewhere. At least we can get a start again, because we doing construction work and at least if we can get some building material or so we would glad," he added.
Anyone willing to render any form of assistance to the family can make contact on telephone numbers 682-0566 and 687-5882.
Around the Web