A group of Seafield, West Coast Berbice rice farmers, who filed a court action challenging the revocation of their land leases, yesterday expressed concern at the delay in a decision being handed down even though final arguments were submitted almost six months ago.
They say that the prolonged delay has put their lives on hold, making it extremely difficult for them to adequately care for themselves and their families.
Philip Alexander Johnson, Rupert Blackman, Rawle Miller and Doreen Monah visited Stabroek News yesterday to issue an appeal for the court to deliver the awaited ruling.
In April last year, the quartet was forced to return the court to challenge the revocation by President David Granger. They had earlier won a legal battle   against the Mahaica/MahaiconyAbary-Agricultural Development Authority (MMA/ADA), which had illegally cancelled their leases for farmlands at Seafield.
A very vocal Johnson related that they were informed of a date for a decision but when they turned up at court they were told that the Attorney General had asked for more time as he wanted to include more arguments. He said that in April this year, the court was in possession of the arguments from all the parties involved. He said that no date was given but it was clear that the all arguments were given and therefore all that is left is the decision from Chancellor (ag) Yonette Cummings-Edwards.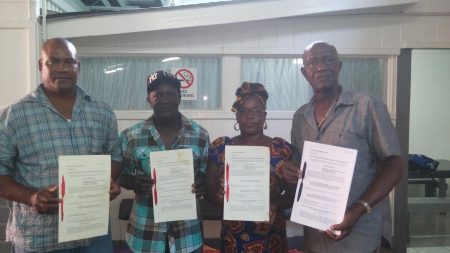 Johnson noted that another judge has already given a decision in a similar case, though it was filed after his. He was making reference to a constitutional motion filed in May this year by Joylyn Nicholson and her sons, Gratien Nicholson, Vaughn Aaron and Herman Nicholson fellow villager Brian George and his daughter, Tiffany Hubbard. They were issued 50-year leases in 2014 by former president Donald Ramotar. Acting Chief Justice Roxane George SC in August ruled that President Granger's cancellation of their leases was unconstitutional, given in part that those agreements were valid and binding. "That case come and deh and we still deh hey waiting," Johnson stressed. "We are poor people, so we are depending on the court's decision so that we can reap again someday," he added.
Blackman, who was leased six acres of land, said that he is very frustrated because he has a family to maintain and does not have a steady income. He added that he is finding it difficult to properly look after his two grandchildren, who live with him.
Miller said that he began planting rice to help take care of his five school-aged children. He said that the only way forward is the decision from the judge, which he had expected to be delivered around the same time as the ruling on the motion brought by Nicholson et al, given that both court actions arose of the same circumstances.
According to Monah, she took up farming after she was forced to quit her job at MMA/ADA. "It [the delay] is affecting me. That's why I am here… I have three kids, ages 14, 13 and 8 in school," she said, before adding that it is hard on her husband as he is now the sole breadwinner for the family. She explained that he works for $3,000 a day. "Yuh gotta pay bills, you gotta send the kids to school. It is every hard…," she added.
The farmers said that they were able to get one crop from the land prior to the revocation and were preparing to reap the second crop when they were violently chased off the land, which was later rented out to persons outside of the village.
They all expressed the hope that this matter will soon be determined so that they can move on with their lives.
Around the Web