A fuel dealer was on Tuesday evening shot dead and robbed of his cell phone at an area known as  `Long Pond', Port Kaituma, minutes after he received a call from his suspected killer.
Dead is Khemraj (only name given), a father of 12 who resides at Canal Bank Port Kaituma, Region One.
Commander of 'F' Division, Ravindradat Budhram confirmed the incident with Stabroek News which occurred around 6.45 pm Tuesday. He said that an investigation has been launched but no one is presently in custody.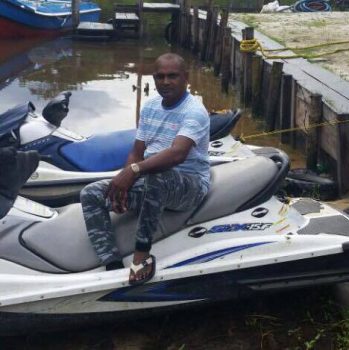 According to reports reaching Stabroek News, Khemraj left his home after receiving a phone call from an unknown caller. He was later discovered dead with about five gunshot wounds about his body including his head.
His wife, Renika Poon explained to Stabroek News that Khemraj and his family were relaxing when his phone rang.  "Someone call and he answer and the person told him that he must reach him at some office at Long Pond and I hear he telling the person that he ain't know of any office there. Then I hear he ask suh which part you deh right now and he tell the person he will be there in three minutes", Poon recalled.
She said Khemraj then informed her that he was going to meet someone and he would be back in fifteen minutes.
About ten minutes after she said she received a call from someone who informed her of the incident.
"Somebody call me and ask me where my husband deh and I say he gone out and they turn and say he just get shoot", Poon noted.
As a result, Poon said she immediately rushed to the scene but by the time she arrived he was already dead.
The woman said it is difficult to determine if the caller is someone who is known to Khemraj since he is a very friendly individual who is always willing to support others. "Khemraj and anybody is friends and if anybody call he and tell he they in trouble no matter what time or so he would go", she related.
Information reaching this newspaper revealed that Khemraj and Poon were expected to leave Guyana yesterday morning to purchase a boat.
A resident of the area, who wished not to be named, said he had known Khemraj for a number of years since they are business partners.
The man said based on what he was told, Khemraj was sitting in a boat which he arrived at the scene with when the lone gunman walked up to him. "A car drop off the man (the gunman) and he walk up to Khemraj and he like he frighten … he aint coming out and is come out he come out and the shots start fire", he explained.
Residents in the area reportedly saw a car drop off the gunman at the scene. The car then drove some distance away and waited until the crime was committed,  It was then seen leaving the scene with the gunman.
Around the Web