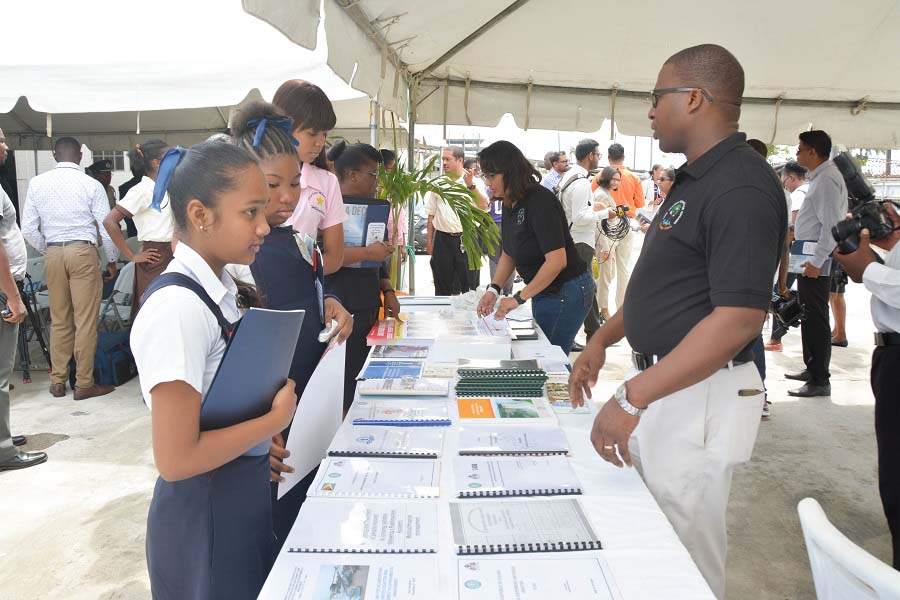 A storage bond will be built at Lethem, Region Nine next year in keeping with government's plan to decentralise the operations of the Civil Defence Commission (CDC) to ensure timely disaster response, Minister of State Joseph Harmon announced yesterday.
"We don't want to have everything here at the centre and then in the event of an emergency we are struggling to get transportation …to get the resources to the communities where the need it," he said, while delivering the feature address at the observance ceremony for the Inter-national Day for Disaster Reduction 2017.
The theme of this year's observance was 'Home safe home: reducing exposure, reducing displacement.'
Harmon told the audience that efforts have to be increased to institutionalise disaster preparedness in all regions of Guyana. He said that an effort is underway to ensure that in every region and in every capital town there is a CDC bond which will store items so that in the event of the roads being cut off, there will be access to equipment and materials that are necessary to ensure that life can be sustained. He said that this is being taken seriously and work has already started in this regard. He disclosed that land has been allocated in Lethem and a plan for the bond has already been drawn. He informed that during the course of next year, resources will be provided to complete that structure.
Harmon noted that worldwide focus has been placed on reducing exposure to disasters and aspects of disaster risk reduction, such as disaster prevention and mitigation and preparedness; resilience building through education and planning; the safety of life; sustaining institutions such as hospitals; the preservation of sustainable resources; and micro credit to reduce the impact of disasters on the most vulnerable.
He said that increased awareness of effective actions, policies and practices to be taken to reduce exposure to disaster risks at all levels can only be accomplished through coordination, cooperation and collaboration among all stakeholders.
According to Harmon, disasters are gateways to poverty and distress for the vulnerable people living in low and middle income countries and therefore the government has some responsibility to reduce disaster risks and he added that ensuring the success of the Sustainable Development Goals (SDGs) depends on it.
The importance of reducing disaster risks, he said, is heavily underscored by the fact that there were 24.2 million new displacements by disasters recorded by the Inter-national Displacement Monitoring Centre. He made mention of the deadly impact of Hurricanes Irma, Maria and Jose and said that in Guyana's case, our circumstance necessitates keen interest and full involvement in all matters that may precipitate natural disasters.
Harmon said that Guyana's low coastline, which is below sea level, is home to more than 90% of the population, and is the main area of economic and administrative activity in the country. He recalled the devastating effects of the 2005 Great Flood and pointed out that flooding due to unusual rains leads to many persons being forced to abandon their homes. He said that these events are of grave national interest and importance and the government is conscious of its responsibility to provide substantial support efforts and materials to assist fellow Caribbean nations who have been affected by the hurricanes.
He said that the potential of other forms of natural disaster, such as flooding, drought and rising sea levels all underscore the importance of developing resilience in all communities across Guyana and the Caribbean. He suggested that in order to tackle this issue there could be an intensification of ongoing programmes to inform and educate citizens about the ways in which they can safeguard themselves when disasters occur and to devise the most conducive and cohesive strategy for them to protect themselves and their livelihoods. He mentioned the development of new building codes and specifications to make buildings, structures and infrastructure disaster-resilient, and the improvement and expansion of communication networks, such as the establishment of radio stations, to keep citizens informed about disaster preparedness, mitigation, consequences and action to be taken in the face of occurrences.
"We have to pay careful attention not only to our building codes but the way in which we drain our communities. The way we address health issues, the way in which we sometimes [operate] because we want not to be flooded [so] we raise our land, we raise out bridges and we cause flooding to our neighbours. These are issues which we must address," he said.
Harmon added that training first responders is very important and this will be increased during 2018 and beyond. "There-fore, when you hear sums of money allocated in the National Budget for these things, you will support us," he said.
Chabilall Ramsarup, Director General of the CDC, detailed some of the effects of flooding and windy conditions for this year, particularly in Regions Seven and Eight, and Linden. "It is a fact and we are experiencing it daily in all parts of the world," he said in his remarks, while adding that this year's theme aptly explains where the focus ought to be.
He warned that if we do not prepare ourselves for natural disasters, "one day our luck will run out." Ramsarup appealed to all to make their homes safe. "That is the main reason why we at CDC is focusing on community based disaster response and regional disaster training," he said, while stressing that capacity needs to be built to help reduce vulnerability and decentralise disaster risk management to the people who need it.
At the same time he said, the CDC is equipping communities with the necessary tools to respond immediately instead of having to wait on the CDC.
Meanwhile, Shabnam Mallick, Deputy Resident Representative of the United Nations Development Programme (UNDP), in her brief remarks, said that Guyana is fortunate as it has escaped the devastation that has befallen other Caribbean countries. She said that the UN has designated October 13 as International Day for Disaster Reduction to promote a global culture of disaster reduction, prevention, mitigation and preparedness. She said that for 25 years this day has been used to recognise progress made and to encourage further efforts to build disaster resilient communities and nations.
Those present were shown a short documentary on disaster risk management in Guyana over the last decade.
Around the Web