The National Agricultural Research and Extension Institute (NAREI) yesterday signed a contract with S&K Construction Services for $19.2M to improve river defences on the Essequibo coast.
A release from the Ministry of Agriculture said that the contract entails 600 metres of brushwood dam being built along the foreshore of Land of Plenty to Bushlot, Essequibo Coast, Region Two. Construction  will begin immediately and last for four months.
NAREI's Chief Executive Officer (CEO), Dr Oudho Homenauth presented the contract to Lullita Singh, a representative of the constructing firm at his Mon Repos, East Coast Demerara (ECD) office, the release said.
Handing over the contract, Dr Homenauth said that his entity's engineer, Luandra Jack will be monitoring the installation of the brushwood dam.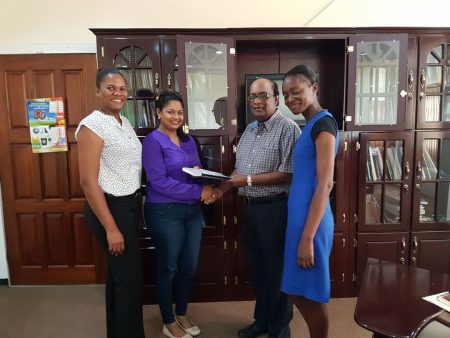 The release said that in July 2016, the same company was awarded two contracts totalling $21.5M for a  brushwood dam at Lusignan, ECD and along the foreshore of Walton Hall, Essequibo Coast.
The structures are expected to reduce the wave velocity, allowing sling mud to settle on the lee side of the structure. Over time, the release said that the elevation of the foreshore will increase to a height suitable for mangrove restoration.
To strengthen coastal sea defence, NAREI has over the years implemented a number of interventions throughout the country. The release said that NAREI has completed seedling planting at Lima, Essequibo, resulting in successful restoration and natural regeneration extending the forest length and width. A geotextile tube groyne and spartina planting at Devonshire castle were done and this resulted in increased elevation and natural regeneration.
Around the Web