The trial of recaptured prison escapee Stafrei Alexander on the charge of attempted murder commenced yesterday before Justice Brassington Reynolds and a 12-member jury at the High Court in Georgetown.
The allegation against Alexander is that on March 23, 2015, at 138 Laing Avenue, Georgetown, he discharged a loaded firearm at  Chris Thom, with intent to murder him. The jury has also been asked to consider an alternative charge of Alexander firing a loaded firearm at the complainant, with intent to maim, disfigure, disable or cause him grievous bodily harm.
Alexander denied the charge when it was read to him.
In her opening address to the jury, Prosecutor Tiffini Lyken said that that up until the shooting, Alexander and Thom were friends, who grew up in the same neighbourhood and lived doors away from each other.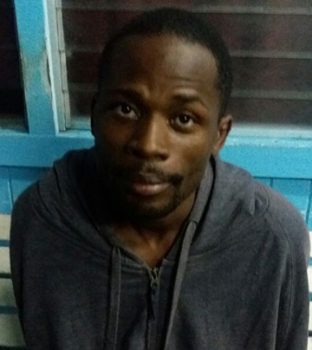 She said that at the end of a birthday party on the day in question, the accused passed by Thom and mumbled something in an inaudible tone.
Lyken said that the complainant looked up and saw Alexander but continued cleaning his yard and feeding his dogs.
The court heard that as Thom began entering his house by backing in, he saw the accused pointing a gun, with which he was shot to his side and back. He was later rushed by his wife to the Georgetown Public Hospital, where he was admitted as a patient for some seven weeks.
The prosecutor said that the weapon was never found.
Testifying yesterday was Detective Constable Jason Kyte, who recalled visiting the crime scene and being shown a spot with what appeared to be blood.
He said he made checks for anything of evidential value, but found nothing. He said too that he questioned several persons but gleaned no useful information.
Kyte told the court that he then visited the complainant at the hospital and thereafter revisited the scene in search of the "suspect" but came up emptyhanded. The case continues tomorrow morning at 9.
Alexander is being represented by attorney Stanley Moore.
The state's case, meanwhile, is being led by prosecutor Shawnette Austin, in association with Lyken and Lisa Cave.
Alexander was one of six inmates who escaped from the Camp Street Prison on July 9, during a fiery jailbreak.
Around the Web