Residents squatting at Broad and Lombard streets on Thursday protested the Mocha/Arcadia Neigh-bourhood Democratic Council (NDC) over its attempts to block their relocation to the community.
Phillip Chase, one of the residents, told Stabroek News that while the residents do not dispute the right of the NDC to air its concerns about the move, they would like to be given a chance to prove themselves.
"The only way to know the contents of a book is to read that book. Don't judge us by the cover. We just want a chance for a better life for our children. We have a lot of children and we want to do better for them," Chase repeatedly stressed.
The relocation of over 40 families squatting at Lombard and Broad streets is being facilitated by the Central Housing and Planning Authority (CH&PA). Minister with responsibility for housing Valarie Patterson-Yearwood had announced in July that her department would be working with Food for the Poor to provide homes for the squatters at Barnwell North in Mocha.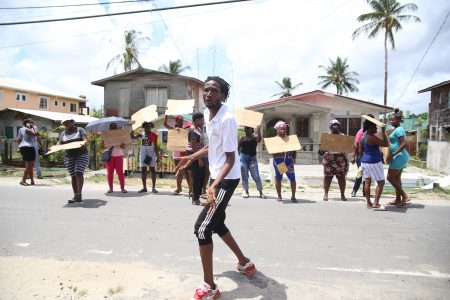 She also noted that $42 million would be spent for the construction of 70 homes, while $30 million would be spent on infrastructure development, including a road.
Chase on Thursday explained that there are presently 102 persons under the age of 18 living at the corner of Lombard and Broad streets. Both he and Oniceia Brammer, another resident, stressed that they have worked hard to provide for their families but would like to escape Lombard Street and the judgement and stigma attached to their present address.
Chase claimed that the residents approached the NDC in an attempt to speak with the Chairman but decided to stage a protest when he could not be reached.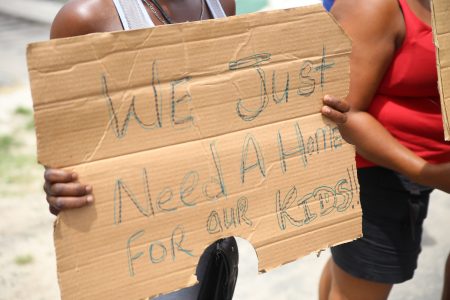 Despite these claims, the residents all had prepared placards. They spent a little more than an hour demanding that the NDC explain what it is gaining from trying to lock them out of the community.
"We must be welcomed. NDC why are you doing this? What are you gaining from it?" they repeatedly chanted.
Chairman Rudolph Adams told Stabroek News that while the NDC is willing to meet with the Lombard Street residents, it was never approached. "They never asked to speak with us. No member of the council was approached by residents from Broad Street. They were never at our consultation with the Central Housing and Planning Authority nor at our community meetings, which are open," Adams explained.
He also noted that while he made a special effort to travel from his place of work at the National Agricultural Research and Extension Institute (NAREI) to meet the protestors, they left before he arrived.
"We feel disappointed that they have approached with the type of animosity they came with today. I made a special effort to come and meet them. I work at NAREI in the Mangrove Department and we had a programme for Agricultural month but I left to come speak with them. I arrived just after 12 and they had already gone," he explained.
Adams stressed that while the council empathises with the residents, "the community that we represent must be our first concern."
"Our council doesn't have a special agency. We are a local government body listening to our constituents. We were elected by them. We have advocated at the level of the ministry that there are several areas more accessible than the area chosen where these persons can be relocated. We have also said we are open to taking some of these persons but they are asking us to take too many," Adams said.
He and other residents who spoke with Stabroek News stressed that it is not in the best interest of Mocha/Arcadia for all the squatters, with their distinct sub-culture, to be relocated.
"Separating them would force them to assimilate into our community.
It would remove from them that support group which would have encouraged some of the less than savoury behaviour observed at Broad Street," Adams said.
Stabroek News reached out to Minister Patterson-Yearwood for comment on the events but the minister noted that she and her staff were in Region Nine and were unable to comment until their return next week.
Adams and several NDC councillors continued to voice objections last week after Patterson-Yearwood indicated that the number of families to be relocated cannot be changed.
"At that point we would've asked that some of the families from the area be housed in alternative areas. However, she insisted that the 49 families, in her own words, is a done deal," he told a news conference last week.
Around the Web