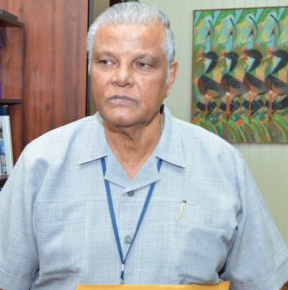 Presidential Advisor, Major General (Rtd) Joe Singh yesterday tendered his resignation from all government-related posts and sources say it is because of comments made by President David Granger which Singh feels tarnished his character.
"I have submitted my request to the government," Singh confirmed to Stabroek News saying that he did not want to go into detail and asked that his privacy be respected.
But sources close to him told Stabroek News yesterday that Singh had "some deliberations of his own following comments by the President" and it was for that reason that he yesterday submitted his resignation.
"You are well aware that Joe was on the last list of persons for that GECOM post…the resignations come not because he wasn't selected but to have direct besmirching, so to speak, of his  character  did not rest well with him,  his friends and many other persons who know him for that matter…," the source said.
"Look, he knows there was a possibility that he would not have been chosen but why go into the not fit and the other? A man that serves your government and advises on matters you tell the country is not this and the other? Joe is not the type of person to put anyone down and if you know the Joe that I know you would understand what I am saying," the source said.
This newspaper understands that President David Granger is aware of Singh's resignation but has not yet pronounced on it.
Singh's contract with the Granger administration will end on December 31st of this year and his giving notice of his resignation is in keeping with the terms of his employment where he is expected to give one month's notice.
Singh was one of 18 candidates nominated by Opposition Leader Bharrat Jagdeo to be Chairman of the Guyana Elections Commission. His name appeared on the third list and he was thought to be eminently suitable as he had previously been Chairman for the 2001 general elections.
Analysts had posited that Singh was the likeliest candidate on the list and would have left the President with the challenge of deciding whether he would hold out for a candidate who is eligible to be a judge, is not an "activist" and is part of a list where all the nominees fit his eligibility criteria.
They claimed too that Granger would have had a very difficult time rejecting Singh, a former army Chief of Staff, given that he successfully ran off the 2001 general elections and is respected on both sides of the political divide and in civil society.
But the President left the country shocked when last Thursday he unilaterally chose 84-year-old Justice James Patterson (retired).  The decision has triggered and outpouring of condemnation.
"Being desirous of fulfilling the requirements of the constitution and given the need to appoint a Chairman …and in light of the failure of the Leader of the Opposition to present me with a list that was not unacceptable I have decided that it would be in the public's interest to resort to the proviso in the Const-itution Article 161 (2) which permits the Presi-dent to act independently to appoint a person in the judicial category to be Chairman of the Guyana Elections Commission, that is a person who is presumptively fit and proper. I have accordingly appointed Justice James Patterson," Granger told reporters during a ceremony that was held at State House.
Granger did not directly justify the appointment of the aged Patterson when asked.  He stressed that government had to search after depending on Jagdeo for the last ten months to come up with a list that is not unacceptable. "We have been searching as well and we feel that given his experience, he is a former Chief Justice of Grenada, he has long judicial service and we feel he is a fit and proper person. So it is important for the reason I have mentioned that we bring this search to an end and we get on with the business of governing Guyana."
Asked why the highly favoured and qualified Singh was not chosen, Granger responded, "I am not prepared to discuss the individual qualities of the nominees. Taken as a whole the list was unacceptable and that is all I need to say in accordance with the constitution."
Singh, who previously served as Executive Direc-tor of Conservation Inter-national from 2001 to 2005 and Chief Executive Officer of GTT from 2005 to 2010, has recently been serving as Chairman of the National Task Force Com-mission for the Rehabilita-tion, Restoration and Renewal of Guyana. He had also conducted for Granger's government in 2016 an inquiry into a mining death.
Around the Web