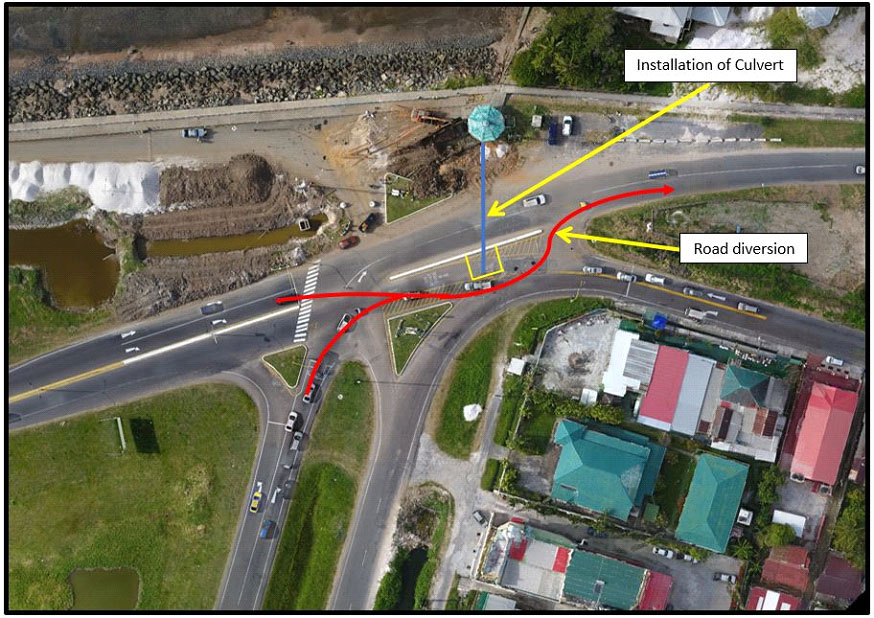 The final phase of Leg 2 of culvert works on Vlissengen Road and Carifesta Avenue will begin on Saturday, October 28, 2017, a release from the Ministry of Public Infrastructure (MPI) said yesterday.
This entails the building of a 1.22m x 1.22m concrete culvert from the junction box to the pump station as show in the illustration below. Consequently, the release said that there will be a disruption in the normal flow of traffic heading east from the six-leg intersection.
Commuters heading eastbound along Carifesta Avenue and northbound along Irving Street who are desirous of travelling along the Rupert Craig Highway will be diverted as shown in the illustration.
For safe traffic movements during this stage of construction, the Kitty Public Road will remain closed. Therefore, the following remains in effect:
Traffic traversing from the East Coast (westbound traffic) will have the following detours:
Sheriff Street: All heavy-duty vehicles (Trucks, Lorries, Low-bed trailers, etc.) are kindly asked to use this alternative.
Church Road
Earl's Avenue
Pere Street
Queen (Alexander) Street
From Monday to Friday, 7:00hrs to 9:00hrs, Queen Street (from Kitty Public Road to David Street) and David Street (from Alexander Street to Vlissengen Road) will become a one-way with 2 lanes heading south and west respectively.
During this period, the release said, traffic heading north along Queen Street from David Street will be prohibited. In addition, traffic heading east along David Street from Vlissengen Road will also be barred.
Around the Web