Three men were yesterday charged and remanded when they appeared at the New Amsterdam Magistrate's Court for two armed robberies carried out in the Glasgow Housing Scheme, East Bank Berbice.
Peter Baker, 19, a mason of Canefield, East Canje, Leroy Guevara, 28, a driver of Belvedere Village, Corentyne and Aubrey Grant, 28, of Lot 51 Archer Street, Number Two Village, East Canje appeared before Magistrate Alex Moore.
The first charge read that the men on October 22, while in the company of others and armed with guns, robbed Punwattie Singh of a J2 Samsung Galaxy cellphone, one gold finger ring, one pair gold earrings and one silver chain valued at a total of $77,000.
The unrepresented men were also charged with robbing Roopchand Parmanand on the said night while in the company of others and armed with guns, of $30,000 cash.
They were not required to plead to the charges and bail was denied to all three of the men.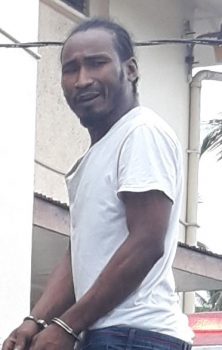 Prosecutor Godfrey Playter told the court that some time was needed to do further investigation. Magistrate Moore also questioned whether any items or guns were found in the trio's possession to which the prosecutor replied no. However, Inspector Playter relayed to the magistrate that there was an admission from the number three accused in a statement, along with information obtained in the investigation.
The men will return to the New Amsterdam Magistrate's Court on December 7.
Meanwhile, while entering the court, Grant had shouted to relatives and onlookers gathered that he "ain't know about any robbery in Glasgow".
As the men were exiting the court, Grant attempted to remove a pipe from the outside of the court to throw at media operatives who were taking his photograph. He told one reporter, "I gone deal with you when I come out back, always with this stupidness," while hurling other insults to other media operatives and the police. His relatives also chimed in at this time, encouraging him to continue, while telling the reporters, "Y'all feel y'all up there, like taking people pictures".
The trio is expected to attend the Reliance Magistrate's Court to answer to another robbery under arms charges committed in the Canje area.
Around the Web