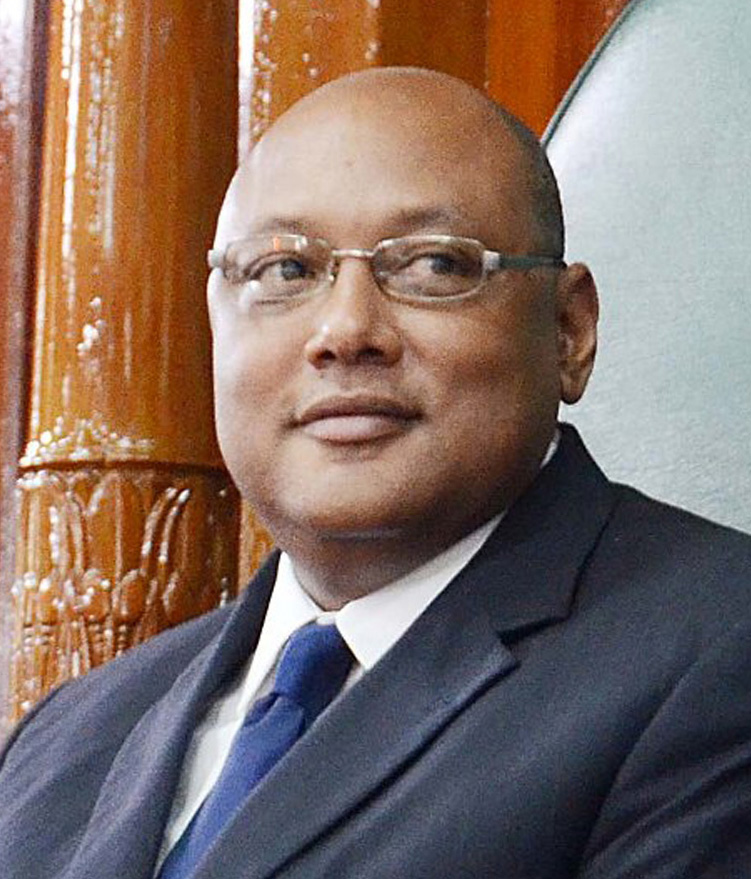 Alliance for Change Leader Raphael Trotman is still to explain his presence at the State House meeting when President David Granger informed Opposi-tion Leader Bharrat Jagdeo of his unilateral choosing of Gecom Chairman, retired Justice James Patterson.
As Natural Resources Minister, Trotman would have had no reason to be present. It would appear that he was present in his capacity as AFC leader to show coalition unity over the selection of Justice Patterson. If that were the case, it is unclear if Trotman had been told beforehand what the meeting was about, whether he objected to the President over it and whether his party had been consulted. While Trotman was present at the meeting where Jagdeo was informed, he was not present at Justice Patterson's swearing in a few hours later and has since not answered questions from Stabroek News on the matter.
However, AFC Execu-tive Dominic Gaskin yesterday said that the party's executive was aware of Trotman's presence and stands by a statement in which it said it supports the president's decision.
"I think that is entirely in order for him to have the leader of the AFC there. I think it is recognition that we are a coalition government and that Mister Jagdeo perhaps should not be getting information before we do," Gaskin said as he made clear his position was one from the stance of an AFC member and not government minister.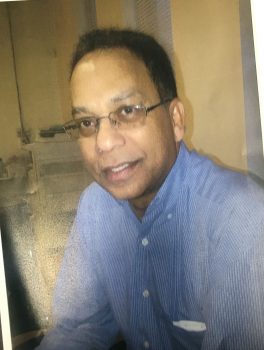 Following Patterson's appointment, the AFC had issued a statement saying that it accepted the decision and that it was necessary to avert a "looming constitutional crisis" and that it intends to use the constitutional reform exercise to ensure that there is wider participation of stakeholders in the selection process for Gecom commissioners.
"The party recognizes that according to the constitution the consultation process was purely between the President and the Leader of the Opposi-tion. The AFC played no part in the selection process," the AFC statement read.
"It is regrettable that after three protracted rounds of consultations and submissions each of the three lists fell short of the requirements of the constitution. The party recognizes that the necessity had arisen for the President not to further delay the appointment of a Chairman. The appointment in the President's own deliberate judgement has averted a looming constitutional crisis," it added.
Gaskin pointed out that he has heard much criticisms of the party's statement but many did not seem to understand that the constitution does not provide for consultations with any party as the decision to choose a chairman is placed on the president.
'Flawed System to begin with'
Pointing to the constitution, he explained that it was how the country's law was set up to deal with the choosing of a Gecom Chairman since it never seemed to take into consideration any dialogue in the process.
"The president acted within his constitutional right. There was no violation of the constitution in his appointment and how it was made," he said.
"As a member of the AFC executive, I don't see what all the hullabaloo is about to begin with because we are looking at a flawed system to begin with. We are looking at the Guyana Elections Com-mission which is a creature of the two dominant political parties at the time when it and that system was created. We in the AFC have never had a position or a commissioner on Gecom, we have never been treated with particular respect by Gecom, information that was readily available to the other two parties we had to struggle and fight up to get. I don't know why we are so suddenly so concerned about the composition of Gecom and the process of selection and all of that. It is flawed to begin with," the AFC Executive added.
Gaskin pointed out that following the president's decision the Executive Manage-ment Committee of the AFC, which is responsible for collectively making decisions for the party in lieu of its National Executive Conference, agreed with a statement to be sent out.
"A number of us would have approved that statement. It was not a statement by one or two persons. This is a president's appointment, the president appoints. The president doesn't need to consult anybody from the AFC for that appointment. That responsibility is his entirely.  He has a decision to make as president entirely by him," he stressed.
Days after the statement the AFC Canada faction released a statement of its own informing that it had pulled all support from the party, while saying that the party's backing of the President's unilateral choice  of a chairman was the 'last straw' after years of being sidelined.
"I want to make it very clear that it is not only this Gecom matter that has been foisted upon us. It started with the Cummingsburg Accord (which created the alliance between APNU and the AFC) and we accepted that and then other things happen and we hear 'The AFC this and that' without democratic consultations with members," President of AFC-Canada Tameshwar Lilmohan told this newspaper.
"That is not what the AFC is about, where only one and two persons speaking for the party without any consultations with the other members. Democratic processes have to be followed… we are pulling out until a court decision on Gecom but in the meantime we want to have dialogue on the other matters," he added.
'No micromanaging'
But Gaskin said that Lilmohan's posture of only few AFC executives speaking without consultation was rubbish as if he was privy to the structure of the party's operational procedures he would know of the democratic processes before a public position is taken. He said that he believes that AFC-Canada faction and its Guyana counterparts have "a bit of a disconnect" and it is for that reason they believe that the AFC statement on the Gecom appointment reflected the views of only its leaders here.
"I don't think that is entirely true. There has been for the longest while a core group who had formed the leadership of the AFC and that group has actually explained and … is a fairly democratic process within that group when it comes to decision making. We do have party conferences in which the national executive of the party is elected. So those comments are not made from a standpoint of full understanding of how the party functions here in Guyana," Gaskin said.
I don't believe that the chairman and leader of the party exercises any micromanaging over the party. I think they are the two persons who are called upon the most by the media whenever a comment is required and they have to be, as leader of a political party, they have to be able to give their views on matters of political importance and national importance. As a leader if you get there first and you get your position out there early it does influence the way the party responds or addresses that particular matter that is sort of natural but that is how politics works. We don't expect our leaders to be dodging questions from the media we expect them to be able to address matters of national importance without having to seek approval from the party every time. They are not giving you a party decision when you asked the leader's views on something at a particular time, it is just that the leader or chairman's views," he added.
He said that the AFC as part of a coalition government and not a party that is an independent third party in parliament operates with limitations but many persons seem to believe the roles are alike.
"I don't think there is a manual out there for how a coalition government should function, especially a pre-election coalition such as ours, where we enter an election as a single party as opposed to those we see operating around the world where they are actually operating as independent parties and they are represented in parliament as separate parties. Our situation is a very unusual situation. There are not that many examples that I know of in the rest of the world. I don't think there is a manual for how you operate such a coalition there are a lot of things we have to deal with for the first time. I don't think it is a matter of right or wrong but a lot of the things are judgement calls. Our statement that we took on the matter I think it stands. I am satisfied it reflects the party's view," he said.
However, he reminded that since the matter was only discussed at the Management Committee level and not its National Executive Committee level there could still be changes but for now he doubts it will be different.
And turning to criticisms by columnist Henry Jeffrey, who had served under both PPP and PNC, saying that the AFC had been hijacked by the pro PNC faction in its executive, Gaskin posited that it comes from an uninformed perspective since Jeffrey does not have knowledge of the internal workings of the party or ever will.
"It is uninformed opinion. I certainly don't feel hijacked or kidnapped and I don't think any of my colleagues do either. I think we know the reality of the relationship we are in and we are all doing a good job on both sides to make it work. I don't share those views at all. He may be speaking about perception, but when it comes to the actual fact, I don't think he has all the facts to be making such a conclusion nor is he likely to get all the facts and that is unfortunate. He is speculating and it is his own opinion and he is entitled to it.
"I think we need to judge the success at the end of its five-year term," he added.
Around the Web