The government last evening opened an agricultural exhibition in Region Four and the Minister of Business imploring that farmers be helped so that the country's US$200 million food import bill can be slashed.
The inaugural Regional Agricultural and Commercial Exhibition (RACE), hosted by the Region 4 (Demerara/Mahaica) Administration, will this weekend offer farmers and agro- processors of the Region an opportunity to showcase their produce and processes.
Held at the Lusignan Centre Ground under the theme "Region 4 – Advancing Sustainable Development through Trade," the exhibition was described by Regional Chairperson Genevieve Allen as one of the most promising and ambitious endeavours and which provides a blueprint on how the region and government intends to advance economic development.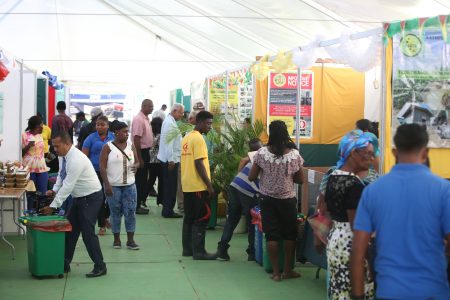 She explained that this development rests on two pillars- agriculture and trade- and as a result RACE aims to improve the entire agricultural process from farm to table.
To this end the exhibition will engage participants in "conversations" aimed at helping them understanding the importance of Information Communication Technology (ICT) and eco-friendly production systems to the manufacturing process.
During the first of these conversations scheduled to be held today, Minister of Public Telecommunications Cathy Hughes and Julius Simon of Innovative Systems Inc will demonstrate the Farmers App.
This App, which was designed by Innovative Systems Inc, seeks to assist local farmers in selling their produce in a global online market place. It was in September declared winner of the Codesprint 2017 competition.
During her presentation last evening Allen also announced the imminent formation of a Region Four Chamber of Commerce, while Minister of Business Dominic Gaskin urged citizens to support local framers.
Gaskin noted that Guyana's yearly food import bill is in the vicinity of US$200 million, though the country has the resources to completely eliminate this expenditure.
"Farmers need a lot of support and we, the public, need to support our farmers by consuming what they produce. US$200 million import bill is a lot for a country with all of this land, all of this water and all of these people out of work….We import a lot of processed foods and that processing can be done right here in Guyana," he said.
According to the Minister, these exhibitions give [producers] access to hundreds of consumers and to [opportunities] to promote and sell their products. He further advised that producers must take the opportunity to not just sell to the local market but also to add value to what is produced and look for foreign markets.
President David Granger, meanwhile, urged farmers and agro-processers operating in Region 4 to tap the hinterland regions.
He noted that this is the sixth exhibition he has attended in a short space of time. Other exhibitions have been held Albion, East Berbice; Linden; Anna Regina; Bath, West Berbice and Lethem.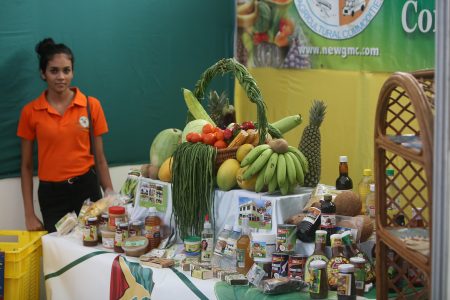 "They were all called different things but had the same purpose," the President noted before stating that he looks forward to the other four regions having exhibitions in the not too distant future.
"We want to ensure that all our farmers, fisher folk and manufacturers can benefit from these exhibitions and want to see greater participation from private sector. Let them come here and put their products where their mouth is," he told those gathered.
He also called on the regional administration to present a regional economic action plan which caters for the overall development of all neighbourhoods in the region and urged Region 4 as a more developed region to assist those lesser developed regions.
"[You are] smallest in size but strongest in economy. Forty percent of the population lives here…Region 4 has infrastructure and institutions. This region has a lot of experience and can show the way, lead the way in other regions, not only by growing and showing but by implanting its technologies in all of the other regions," Granger said.
The President went on to ask how entrepreneurs and miners from Brazil or China or Canada can come to develop Guyanese resources yet Guyanese entrepreneurs cannot penetrate other regions in order to establish those enterprises.
"Go into other regions and implant those economic enterprises which could help to aid their development," he appealed.
Around the Web