Although due to return to work yesterday after four months of vacation leave, Police Commissioner Seelall Persaud has been given a directive to proceed on indefinite "special leave" in the public interest.
Public Security Minister Khemraj Ramjattan, who issued the directive by way of a letter, clarified to Stabroek News yesterday that Persaud will be proceeding on 56 days of annualised and pre-retirement leave, after which he will return to office.
"I am advised to inform you that in the public interest, and to allow for continuing initiatives and innovations being pursued by the Guyana Police Force's temporary administration to be completed before your resumption of duty, it is the considered opinion of the Administration that you should be and you are hereby directed to proceed on special leave with effect from November 24, 2017 until further notice," Ramjattan wrote in the letter to Persaud, which was dated November 23, 2017.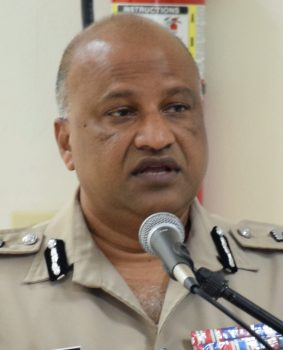 Stabroek News was told that Persaud received the letter yesterday.
Contacted last evening, Ramjattan explained that the leave is to allow for the continuation of the measures as was outlined in his letter. He explained that Persaud has 42 days of annual leave left and 14 days of pre-retirement leave, making it a total of 56 days.
Based on Stabroek News' calculation, Persaud is slated to return to work on January 22, 2018.
Ramjattan stated that upon his return, Persaud will serve until retirement. He said that based on the information provided by the Ministry's Permanent Secretary, Persaud will serve up until around May 1, 2018.
He also assured that Persaud will be given all of his benefits. "…You hear me: The man will get all of his money. Nobody will take away a cent from Seelall," he stressed.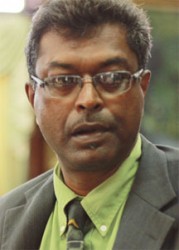 The development comes in wake of the findings of a Commission of Inquiry (CoI) into an alleged assassination plot against the president, which had recommended Persaud's removal from office.
Government is yet to publically state how it plans to deal with the recommendations, which were submitted on August 31, including what to do about Persaud, who was on accumulated vacation leave.
The CoI concluded that Persaud's ability to continue to hold the post has become "untenable" and recommended that he should be made to resign under terms considered appropriate by President David Granger, or if he fails to do so, be removed for misbehaviour.
The recommendation was made on the grounds that Persaud had interfered in the probe of the alleged assassination plot while he was on vacation leave and influenced the conduct of the investigations; acted improperly by instructing that the brother of the suspect be sent on bail, thereby bypassing the chain of command; failing to recuse himself from the matter although there was a conflict of interest; and failing to review the file on the matter.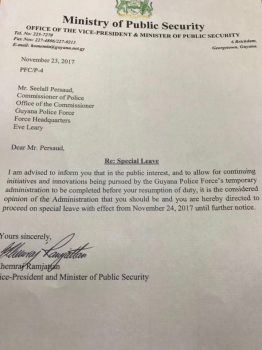 It was also recommended that Persaud be investigated for perjury, as he had told the CoI that he first knew about the allegation after 4 pm on March 29, although Assistant Commissioner of Police Clifton Hicken, who was then 'A' Division Commander, claimed to have told him around 10 that morning.
The CoI, conducted by retired Assistant Commissioner Paul Slowe, was set up to investigate the allegation made by complainant Andriff Gillard, who claimed that he was offered $7 million by businessman Nizam Khan to kill President Granger and the force's handling of the probe.
Although the inquiry found that the allegations made by Gillard were "unsubstantiated," and as a result "tenuous," it was also concluded that the efforts made on the part of the police force were unsatisfactory.
It was recommended that the officers that played a key role in the investigation of the alleged plot be reassigned, possibly to positions outside of the police force based on their conduct. These officers include Crime Chief Wendell Blanhum, Hicken and acting Police Commissioner David Ramnarine, who the report stated "lack the professionalism to lead the Guyana Police Force."
Around the Web