Several members of the Joint Services were yesterday presented with medals in recognition of their long and dedicated service.
Those who are members of the Guyana Defence Force (GDF) were presented with the Military Efficiency and Border Defence Medals. The Military Efficiency Medal is awarded to serving members of the force who have completed at least 10 years of efficient service, while the Border Defence Medal may be awarded to any officer or other rank serving in a unit deployed within 100 kilometres of a hostile border. The individual becomes eligible for the award on completion of 365 days of such service.
Members of the Guyana Police Force (GPF) who completed similar service were also awarded the Border Defence Medal, while those of the GPF who have provided 15 years continuous service received the Long Service and Good Conduct Medal.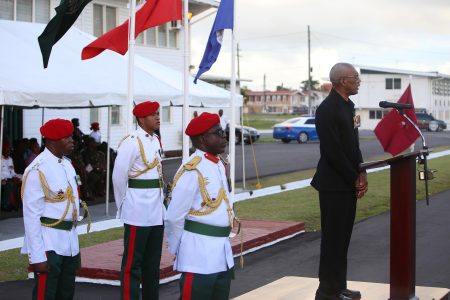 Long Service and Good Conduct Medals were also awarded to members of the Guyana Fire Service who have served for 20 years continuously with good conduct.
The medals were presented by Commander-in-Chief President David Granger at a parade held at the Drill Square at Base Camp Ayanganna.
After the presentation, Granger told the recipients that the government, Cabinet and Guyana Defence Board are "proud" of the service they have provided.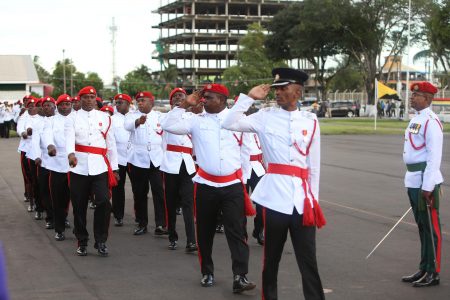 "Today, tonight, tomorrow, next month, next year, [you] will be on duty by day and night… you and your comrades in uniform will be on duty somewhere in Guyana. We are proud of you, proud that you have selected to serve your nation, proud that you have been selected to receive these awards. We are proud that your service has kept Guyana safe," he said
Granger stressed that though grateful there is no way the nation can thank those serving enough for all that they do every day to keep this country safe, and that the awards are mere tokens. He, however, urged that they be cherished and worn with pride as an example of the rewards garnered for service to the nation.
Around the Web