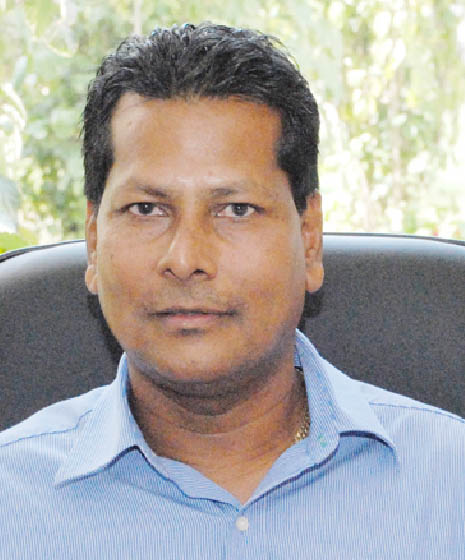 Guyana Power and Light Company Inc (GPL) Board Chairman Robert Badal says that the recent spate of power outages across the country is due to "intensified maintenance works" on both generating assets and the transmission and distribution grid.
"The age of the electricity grid requires frequent maintenance to replace cables, connectors and the like. The absence of redundancy lines means that the areas serviced by the lines scheduled for maintenance would obviously be affected," Badal explained in a letter to the editor, published in Friday's edition of Stabroek News.
He added that executive management has recently been mandated to implement live wire maintenance, which would require a minimum disruption of service during maintenance. "Currently we do not have this expertise, and it would require much training of local technicians, but it's the way forward," he added.
GPL and its management have been faced with pointed criticism over the continuing blackouts, with the private sector recently questioning the ability of its management to deliver a reliable power supply. In a recent GPL advisory, the company scheduled outages, which could last up to nine hours, for various areas across the country from December 1 to December 10.

In his letter, Badal noted that over the years, investments in generating assets have lagged behind the need to retire aging Gensets. He noted that there are 50MW generators at Kingston and Garden of Eden that are over 22 years old, and their replacement is now being planned. "These units are now de-rated, resulting in lower generating capacity," he said.
He pointed to similar situations at Bartica, Anna Regina and Canje, where he noted that generating sets are more than 30 years old, thereby giving rise to maintenance challenges and affecting the reliability of the supply. "We have purchased new Gensets for these areas, which after commissioning would remove outages in those areas. Nonetheless, a sensible policy of scheduled retiring and replacement of Gensets is vital in ensuring adequate long term generating capacity," he noted.
Badal added that while the units under maintenance have now been restored, a shortfall in supply at SEI in Skeldon has made GPL's reserve very thin. "Currently we have a total available generating capacity within the Demerara/Berbice Interconnection System (DBIS) of 123MW against a peak demand of 115MW. This leaves us with a reserve capacity of only 8MW. This means that in the event of an unexpected breakdown or even scheduled maintenance the generating capacity may be inadequate," he noted.
He said that in order to address this situation, the company recently invited expressions of interest for the installation of 50MW of generation based on natural gas under a power purchase agreement. He, however, acknowledged that the lead time for such supply could be two years, leaving GPL in "a most challenging situation."
Badal said too that divesting all new generation is the new model GPL would be using going forward in order to allow private sector investment in the electricity sector, while the company would focus its operating cash flows on modernising the electricity grid.
On the latter, he noted that the Public Utility Upgrade Programme (PUUP), a US$64 million investment, would see the installation of 54,000 smart meters and more than 1000km of low voltage distribution lines aimed at reducing losses, strengthening management and building capacity. He added that the US$22 million Infrastructural Development Program (IDP) phase 2, which will see the construction of 4 new sub-stations, expansion of 7 existing sub-stations, installation of 55 km of transmission lines and integration of generation with transmission through the SCADA system, will soon be commissioned.
Badal also said that GPL is in a stronger financial position from where it was a few years ago. Over the past two years, he noted, it has added more than G$8 billion in free cash flows through prudent management, better inventory control and scheduling of procurement, even after extending a 20% reduction in electricity rates. In addition, he said it repaid the government G$1.0 billion in interest in 2017, the first time it has done so in its history. "It is now able to finance its own operations from operating cash flows instead of needing state funding. All executive posts are now filled and a CEO will soon be on board," he further said.
Badal also addressed the company's customer service and noted that in all its aspects it has been found wanting. He said a new Director of Customer Service recruited a few months ago should make significant improvements in this area.
More outages
Meanwhile, according to the most recent GPL advisory, on Saturday, December 2, No. 53 Village to Auchlyne will be without power from 8 am to 5 pm, while on Sunday, December 3, New Amsterdam to Kortberaad and Canefield to Albion will also experience total outages from 8 am to 5 pm.
On Tuesday, December 5, parts of Georgetown and the East Coast of Demerara will be without power from 8 am to 5 pm.
On Wednesday, December 6, parts of the northern side of West Coast Demerara and East Bank Demerara will be without power as Zeeburg to Naamryck is scheduled to be without power from 8 am to 4 pm, while residents of Republic Park will be without power from 11 am to 1 pm.
On Thursday, December 7, there will be outages in Section C Enterprise, on the East Coast of Demerara, from 8 am to 4 pm, and in Georgetown, along North Road, west of Albert Street and the surrounding environs, from 8am to 5pm.
On Saturday, December 9, from Garden of Eden to Timehri and the Soesdyke Highway, on the East Bank of Demerara, are scheduled for outages from 8am to 5pm.
On Sunday, December 10, from Seafield to Ithaca, in Berbice, is slated for outages from 8am to 5pm.
The scheduled maintenance comes in wake of line maintenance that was undertaken two weeks ago, where large parts of Georgetown experienced a 12-hour outage. The power company had said then that the maintenance was scheduled to facilitate repairs on the main transmission line linking the Kingston and Sophia power stations.
Despite maintenance exercises throughout the year, customers still frequently complain of poor service. Many persons from varying areas around the country endure sporadic blackouts that last for hours.
Around the Web