Family members are mourning the death of a guard who went missing last Thursday and was later found at the Georgetown Public Hospital (GPH) where he subsequently passed away.
Dead is Norbert Lamazon, a father of two and a grandfather of two, of 44 Princes Street, Wortmanville.
Speaking to Stabroek News yesterday, the sister of Lamazon said that it is unclear exactly what happened to her brother, adding that they were told by GPH officials that her brother was hit by a truck but there were no visible injuries on him when they saw the body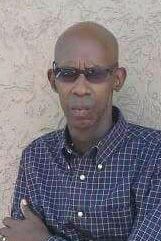 The sister added that family was not made aware that her brother was missing until sometime Friday.
She noted that Lamazon, who worked nights at the crematorium, left work last Thursday afternoon and never returned.
According to the sister, the family was told by her brother's neighbour that her brother never made it home.
"It is unlike him to not go home", the sister said, which prompted her to call his girlfriend, who indicated that Lamazon was not at her premises.
On Saturday, the sister stated that their family made a missing persons report and visited where he worked with the police. It was there that they were able to view video footage which showed Lamazon leaving the worksite but never returning.
The family then visited the hospital in search of Lamazon but were told that there was no one there with their brother's name but someone by the name of Antonio Lamazon.
According to the sister, after making multiple checks the family left the hospital and were heading home when they received a call from a friend, who stated that she saw Lamazon at the hospital.
The friend told Lamazon's relatives that the now deceased man looked pained.
Lamazon's daughter, the sister stated, later identified her father's body, after he died around 5pm on Saturday.
There were no visible injuries on her brother, the sister said, adding that the GPH was unable to tell them exactly where her brother was picked up from and by whom. According to the sister, relatives were told that an Ambulance brought him in but other persons stated that he was brought in by a yellow taxi.
A post-mortem examination is to be performed on Lamazon on Wednesday.
Since discovering that Lamazon's death may have been as a result of a hit-and-run, family members stated that the police have not been in contact with them.
Lamazon is described as someone who was friendly and jovial. Someone who loved music and never cared for material things, or allowed anything to bother him.
Lamazon was on duty on the morning that the grievously wounded teacher Kescia Branche was discovered at the side of the road near to the cemetery. She later succumbed at the GPH.
When Stabroek News had approached Lamazon, he had said that he had no information on her death.
Around the Web