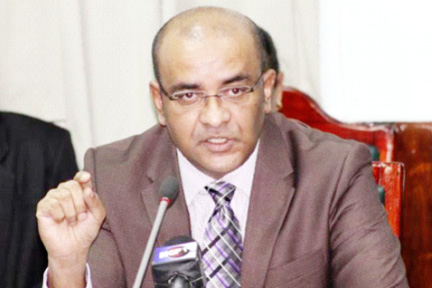 Saying the government deliberately attempted to mislead the nation about the receipt of a signing bonus from ExxonMobil for the renewal of its oil exploration agreement, Opposition Leader Bharrat Jagdeo called for Minister of Natural Resources Raphael Trotman and Finance Minister Winston Jordan to tender their resignations.
"Mr. Speaker, what we have here is scandal, a major scandal. The Government of Guyana took money, large sums of money in the form of a signing bonus, did not tell the people, tried to put it into a special account, not paid into the consolidated fund or the GGMC," Jagdeo told the National Assembly yesterday during the final day of debate on the proposed 2018 national budget.
Stabroek News in its Friday edition reported on a correspondence, dated September 20, 2016, from the Ministry of Finance to the Bank of Guyana (BoG) pertaining to arrangements for the signing bonus, which Trotman had been secretive about prior to yesterday.
In the letter, Finance Secretary in the Ministry of Finance Dr Hector Butts wrote to the Governor of the BoG, Dr Gobind Ganga with the reference line 'Signing bonus granted by ExxonMobil – Request to open bank account.'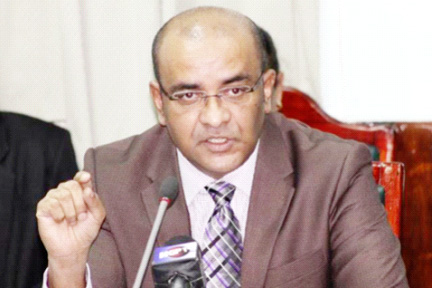 Jagdeo devoted about 20 minutes of his three-hour long presentation to the issue. He said that from the inception, government has been refusing to publicly state whether or not there was a signing bonus. He said the correspondence points to Trotman being aware of the bonus and as result he should resign. "Go! Go!" opposition MPs shouted while banging their desks.
Jagdeo also asserted that while he himself had said that he was "reasonably sure" that the signing bonus existed, Jordan had denied it. Jagdeo questioned the "motive for trying to hide this money" and charged that if Jordan knew and he misled the nation "he should resign."
Jordan yesterday told the National Assembly that he was never asked whether the government received a signing bonus, only about a specific US$20 million figure, which he specifically denied.
Speaking above exclamations of "What a shame!", Jagdeo told the House that in light of the fact that there is now a letter in the public domain which confirms the existence of a signing bonus, a number of issues could be raised, inclusive of why it has to be placed into a special account.
"If money is paid over… it has to go into the account of the Geology and Mines Commission or the Consolidated Fund because this is revenue… so there has to be a significant breach of our financial laws, almost a criminal breach of our financial laws," he said.
Jagdeo stated that once money is collected by government, it has to be recorded and reflected in the estimates. "This is ground enough for calling to withdraw the entire estimates as being illegal and fraudulent," he further said, while adding that what has happened is also a breach of the Constitution. He questioned whether someone could "draw down this money if it's not recorded anywhere."
Around the Web