The Society Against Sexual Orientation Discrimination (SASOD) has concluded consultations  on a proposed legislative amendment which provides legal protection from discrimination in relation to the right to work for lesbian, gay, bisexual and transgender (LGBT) people in Guyana.
SASOD in a release yesterday said that over the past two months, it has been consulting with a wide range of stakeholders including parliamentarians, private sector, civil society, trade unions, religious groups and international organizations on a proposed amendment to prohibit sexual orientation, gender identity or expression (SOGIE) as grounds for discrimination in the Prevention of Discrimination Act 1997 (PDA). It noted that the purpose of the PDA is to eliminate discrimination in employment, training, recruitment and membership of professional bodies, and the promotion or equal remuneration in employment for work of equal value.
The release  pointed out that at a meeting in his chambers with SASOD representatives on June 5 this year, Minister of Legal Affairs and Attorney General  Basil Williams SC requested that SASOD draft the proposed amendment and discussion paper for his and cabinet's consideration. It said that given Williams' request, SASOD reached out to the United Nations Development Programme (UNDP) Guyana office for support in the form of a legislative drafting consultant to draft the proposed amendment bill and discussion paper to engage key stakeholders.  UNDP agreed to support the request and recruited international legal consultant Peter Pursglove, SC, to work with SASOD.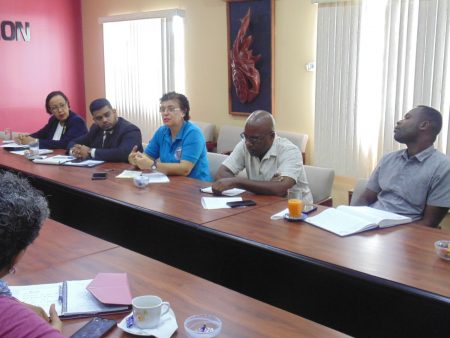 Over the past two months SASOD representatives and Pursglove met with 38 stakeholders from various sectors of society. The release said that the vast majority of the stakeholders engaged voiced  their support for the simple amendment which would provide legislative protection against discrimination based on SOGIE in relation to the right to work.
SASOD said it is pleased that the proposed amendment enjoys widespread support from a diverse range of national stakeholders and that this consultative process is completed. The next step for SASOD is to formally meet with the Attorney General early in the new year and present the draft amendment and discussion paper for his and the government's consideration. SASOD is working towards having the proposed amendment tabled by the government in the National Assembly by mid-2018.
SASOD's Managing Director, Joel Simpson was quoted in the release as saying  "Minister Williams' request for us to draft the amendment and discussion paper to support a draft bill really gave us an opportunity to engage stakeholders in meaningful dialogue. I was particularly heartened by the support the amendment received from the private sector and religious groups who met with us. While individuals may have their personal views on sexuality and gender issues, these stakeholders were clear that nobody should suffer discrimination when it comes to their right to work. And to me, that is a moment for us to acknowledge and be proud as Guyanese celebrating Human Rights Day".   
Around the Web