The Guyana Police Force Traffic Department has recorded a 23% decrease in fatal accidents for the year thus far with eight-nine fatal accidents resulting in 104 deaths.
This announcement was made on Friday by Traffic Chief Deon Moore who was at the time speaking at the Guyana Police Force/National Road Safety Council end-of-year press briefing.
Comparing the figures to the same period last year, Moore disclosed that there has been a 23%  drop in fatal accidents and a 17% decrease in deaths. "For the year thus far 89 fatal accidents were recorded resulting in 104 deaths comparing to 115 fatal accidents with 126 deaths for the same period last year", he said.
According to Moore, a total of 72,706 traffic cases were made this year compared to 70,240 for the same period last year.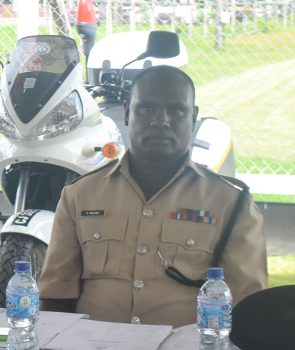 For the year, 2589 drivers have been charged with driving under the influence; 1622 for using cell phones while driving, 1231 for unlicensed driving; 555 for private hire. Additionally, 1554 drivers faced charges for breaching traffic light signals, 4756 for music in public transportation and 26, 792 for speeding.
Speeding, Moore said has been declared as the major cause of most of these accidents followed by driving under the influence and inattentiveness. In terms of the categories of road users that lost their lives, Moore said pedestrians topped the list and were followed by motorcyclists. "We must understand that many of these motorcyclists in particular who have lost their lives on our country's roads do not wear a safety helmet and some who do wear do not wear the approved safety helmet or do not wear it properly…", he explained.
According to Moore, several strategies have been introduced some of which are enforcement with a maximum use of radar guns and breathalyzer kits with increased patrols mostly at nights since it has been recognized that these accidents  tend to occur then.
In terms of capacity building, he said the force administration has recognised the need for additional ranks and has added a total of 71 within the traffic department.  He added that the department has received five motorcars along with 35 motorcycles.
He also said that since the force has acquired a huge amount of vehicles including those that were recently granted by the People's Republic of China, the force has seen the need for additional training for drivers aimed at reducing accidents involving police vehicles. Several training sessions were organised.
"This came along because of the fact that we looked at the amount of accidents which would have occurred involving police vehicles and in total there has been 23", he said, while adding that the training not only had to do with driving manual vehicles but  was also designed to educate the ranks on how to develop their skills and capability in terms of care, maintenance and how to use those vehicles.
As a result, some 185 drivers were trained within a three-month period to drive manual vehicles. "There is also training for ATV riders who would have to use the ATV's to patrol the terrain other than the normal city where there are uneven roads and areas where it is more difficult for motor vehicles to traverse", he added. The force has not only placed emphasis on members of the public, but also its own, and as such 65 police-owned vehicles and 23 vehicles that are used for patrol purposes were stripped of tints. "The force's administration has given out the directive for no police patrol vehicle to be tinted", he said.
The Traffic Chief said the reduction of the fatal accidents is not only due to the amount of enforcement being conducted but also the support from the public.
Around the Web