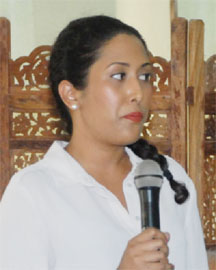 The Guyana Office for Investment (Go-Invest) is indirectly involved in the Government's effort to divest the assets of the Guyana Sugar Corporation (GuySuCo) but it doesn't have the mandate to lead these efforts.
Questions had been raised as to why Go-Invest was not handling this matter for the government.
Chairperson of the Go-Invest Board of Directors, Patricia Bacchus explained at an end-of-year press conference on Monday that divestment in Guyana comes under the privatisation unit.
Bacchus who was formerly a member of the Privatisation board noted that there is a legal structure which takes precedence for the holding of government entities.
"Shares are held by Privatisation Board or by the National Industrial and Commercial Investments Limited (NICIL). These are all agencies under the Ministry of Finance, [Go-Invest] is an agency under the Ministry of Business. We cannot divest that which we do not own," she stressed before explaining that the agency does play a role in the process.
"We have not been locked out of the process. We are consulted by the Ministry of Finance and those agencies to the extent of assessing the unsolicited proposals that come in and sharing information with potential bidders," she said.
Chief Executive Officer Owen Verwey added that they have been called upon to provide information on Guyana as well as information on operating in Guyana which Go-Invest is privy to.
"We are indirectly part of the process but we are not handling it because legally we can't do so," he said.
The divestment/privatisation of GuySuCo is being handled by the Special Purpose Unit which is part of NICIL.
Under its plans to "scale down" GuySuCo, government has outlined a scheme to consolidate its operations to three estates with three factories that would produce sugar for domestic needs and foreign markets, while divesting the company's remaining assets, including the Skeldon Estate. Following the closure of the Wales factory at the end of last year, there are plans to close the Enmore and Rose Hall factories this year.
Recently, the SPU, announced that all of GuySuCo's assets will be valued by an international firm  Pricewaterhouse-Cooper (PwC) and a prospectus completed by the end of January  next year.
The SPU has been allocated $200 million for 2018. Minister of Finance, Winston Jordan explained to the National Assembly last week that this sum will mostly be spent for legal and professional fees related to the restructuring of the Guyana Sugar Corporation (GuySuCo).
A disaggregation of the allocation shows that $6 million has been set aside for the production of embedded survey maps of identified estates while $57 million is for a strategic partnership with PwC.
A sum of $30 million has been allocated for legal firms to assist the SPU with regularization and conveyancing of land as well as movable and immovable property as well as $96 million for employment and $10.2 million for advertising, travelling and subsistence.
Jordan also revealed that the contract entered into with PwC has a duration of 12 months and a cost of   US$370,000.
Around the Web