Girls dominated the "pitch it" competition of the recently concluded Youth Innovation Camp as they were able to secure most of the seed money made available to the teams who presented the best business proposals.
The three-day camp, which began on December 18, was facilitated and sponsored by Young Leaders of the Americas Initiative Guyanese Alumni (YLAI Guyana) in collaboration with the U.S. Embassy as part of efforts to promote and foster an entrepreneurial environment among youths in Guyana.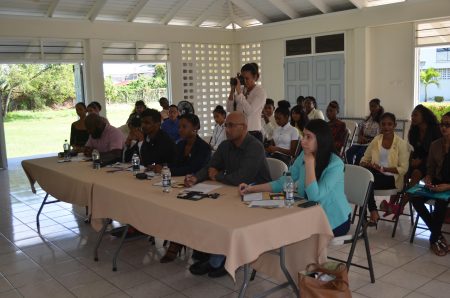 Participants were drawn from several administrative regions and were afforded an opportunity to engage business advisors and business leaders in various sectors across Guyana, as well as to receive training on developing their business plans which act as a road map for start-up and future growth.
Additionally, participants were afforded the opportunity to pitch their business ideas for a chance to secure seed funding to get their idea off the ground.
According to YLAI-Guyana alumnae Triston Thompson who spoke to Stabroek News, the business proposals made by the teams were diverse and included seedling production, recycling, fashion designing and a massage parlor.
It was from this component of the camp that the three teams, which comprised of mostly female participants, were able to captivate the judges' interests with their business proposals. This included the proposal made by Yashmini Sarjoo and Marissa Singh, whose business "M.A.L. Incorporated," was awarded the first place in the "pitch it" component of the camp.
Their proposal to provide self-service kiosks and a mobile app to food businesses to tackle the lengthy waiting process when ordering food, earned the teens, both students of the St. Joseph High School USD$1000 in funding from the US Embassy.
Coming in second place was Saint Stanislaus College student Suzana Asam who proposed her idea of opening a Non-profit Non-Governmental Organization (NGO) that would focus on mentoring and coaching youth, since she feels youths are not given the attention that they deserve. Asam has earned herself USD $700 in seed money.
Additionally, Varuna Ganess, Navindra Dhanraj and Roma Ghansham whose proposal focused on event organizing, planning and coordinating earned themselves USD$500 towards their business, which will see them catering to all types of events- weddings, parties and even funerals.
The judges of the competition included Vishnu Doerga of ActionCoach, Ronson Gray of IntellectStorm, Christine Proffit of The Scrub Hub, (YLAI 2017), Fashion designer Randy Madray and Sandra Guzman, Economics Officer at the US Embassy.
Other contributors to the camp included Conservation International, Small Business Bureau, Gordon Mosely, Cerulean Inc., Princess Movie Theatres and Interweave Solutions Guyana.
The camp came out of the YLAI-Guyana Alumni's obligation to come up with something that would benefit their country upon the completion of their fellowships.
Around the Web