A 40-year-old Grove, East Bank Demerara resident died after he jumped off the pedestrian overpass on the Diamond Public Road yesterday afternoon.
According to information reaching Stabroek News, Navin Surujpaul, from Times Square, Grove, around 4pm, climbed up the pedestrian walkway and jumped to his death.
Public-spirited citizens and staff from the Diamond Diagnostic Centre, which is obliquely opposite from where the man jumped, helped to transport the man to the hospital.
The doctor attempted to treat the man but he had suffered several broken bones and a severe head injury and succumbed to his injuries shortly after.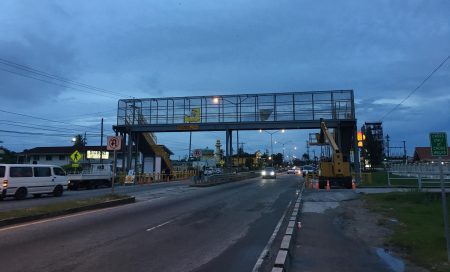 His family rushed to the hospital after receiving a call from someone alerting them of what had transpired. However, they explained to Stabroek News last evening that they are unsure of why the man would want to commit suicide.
While he does not have any specific occupation and "does odd jobs around the villages", one of the man's relatives explained that he is known to abuse alcohol and drugs and on Thursday night he "was acting weird and making nuff trouble."  Persons who are having thoughts of committing suicide are advised to seek help from someone whom they trust or respect. Persons can also access help from the Inter-Agency Suicide Prevention Helpline through the following:
Telephone: 223-0818, 223-0009 and 223-0001
Mobile: 600-7896 or 623-4444
Email: [email protected]
BBM: 2BE55649 or 2BE56020
Twitter: @guyanaagency
Whatsapp: 600-7896 or 623-4444
Facebook: Guyana Inter-agency Suicide Prevention Helpline
Around the Web