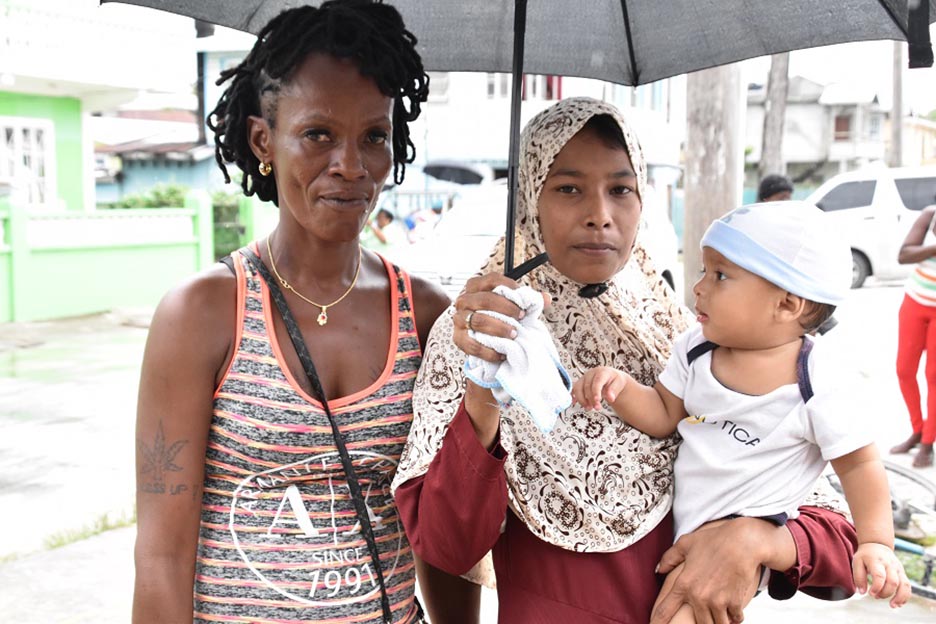 Minister of State, Joseph Harmon and representatives from the Civil Defence Commission (CDC), the Mayor and City Council (MCC) of Georgetown and the Guyana Water Incorporated (GWI), yesterday distributed 300 sanitation hampers to residents of Albouystown who have been affected by flooding due to the seasonal rains.
The Minister also led the team on a walkabout of the community to get a first-hand look at the conditions under which people are living, a release from the Ministry of the Presidency said. Representatives from the Ministry of Public Health were also on hand to treat persons suffering from water-borne diseases.
"I'm not unfamiliar with this territory. As you recall… while we were in the Opposition we had these floods, we've gone through these streets. I know [that] the situation has not changed dramatically but it has changed somewhat because of the monies the Government and the City Council has spent on drainage and irrigation in these communities, but there's still a lot to be done," he said.
Harmon said that persons who reside in bottom flat homes in Constituency 10, which comprises the Albouystown and Charlestown communities, are particularly vulnerable to flooding as it is a low-lying area and as such every effort must be made to ensure that drainage facilities are maintained.
"We  know that December is always a month of rain and so what I would advise and continue to advise is that people take precautions because as I said, the situation, while we're working on changing it, it's still a work in progress and so people need to help in that regard. They need to ensure that their surroundings are clean… as a community we take those things into our own hands. The City Council can do so much … the Central Government can do so much as well, but the community, the people in the community, the councillors from the community and the persons who live there have to assist.  It has to be … a total effort … to make sure that we can provide that good life for the people [that] we promised them," he said.
Mayor of Georgetown, Patricia Chase-Green expressed similar sentiments.
Meanwhile, the CDC continues to observe flooding across the regions via its 24-hour National Emergency Monitoring System (NIMS). The CDC submits a report every 12 hours to Harmon as efforts continue to determine how best to deploy limited resources to reach the most vulnerable communities, the release said.
Director General (Ag) CDC, Major Kester Craig, CDC Preparedness and Response Manager, Major Sean Welcome, MCC Constituency 10 Councillors  Heston Bostwick, Malcolm Ferreira and Carolyn Caesar-Murray were also present.
Around the Web