(Trinidad Guardian) – The desire to be the best in her studies may have caused 16-year-old Rachael Ramkissoon to wake up late on Friday morning after studying the night before and as a result she missed the school bus.
The teen, a fourth Form A student of North Eastern College, left her Talparo Trace, Brazil home with the intention of writing an exam. The aspiring lawyer after realising she missed the bus telephoned a friend on the bus to beg the driver to wait for her. He did not.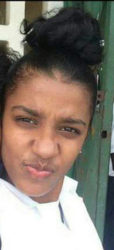 Relatives who spoke to the media at the San Raphael Police Station said she was not the type to travel with strangers and may have stopped a driver she knew from the area to take her to school. So dedicated she was to her school work that she wrote two CXC subjects, Math and English and attained distinctions in both. During the Christmas vacation, family limes and outings were sidelined for studies and revising.
Most recently, on Sunday last, her great aunt, Inga Bocas, begged Ramkissoon, an only child to her mother, to go to the beach with the family before Bocas returned to Puerto Rico but was trumped by study time.
Bocas said the aim of the "little angel" was to study to become a lawyer and get her family out of poverty.
"I want this predator to be arrested or killed or chopped up in jail. How could you kill an innocent child an angel like that? She would never go with any and any one and she didn't have a boyfriend so it is not that she was planning to run away, she was going to school," an irate Bocas said.
Police reports stated that around 1.30 pm a hunter found the teen face up in a forested area near Balata Trace, Arena and contacted them. Police believe the teen was strangled as there were no blood or marks of violence on the body. While police neither confirmed nor denied the report, relatives claimed Ramkissoon was sexually assaulted. Police said they are awaiting the results of an autopsy tomorrow to say how she died.
Officers of the San Raphael Police Station were seen counselling the family who gathered as news began spreading of her killing.
Relatives were only made aware that she didn't not arrive safely at school when a cousin of hers who lives nearby and attends the same school came home and told them Ramkissoon never made it to school. Frantic relatives called her cellphone which was turned off. Some made their way to the San Raphael Police Station where they were told that a child fitting Ramkissoon's's description was found. One officer lamented that it was a sad day for the country.
Ramkissoon was the first female and youngest person to be killed for the year. She will be recorded as murder victim 15. Last year, for the same period there were 21 murders.
Around the Web