(Trinidad Guardian) The Mighty Chalkdust's (Dr Hollis Liverpool) victory at this year's Dimanche Gras on Sunday night pushed him ahead of the "Calypso King of the World's" (Slinger Francisco) record with nine titles as Calypso Monarch.
The two bards were previously tied with eight victories each and Chalkdust had tried unsuccessfully at eclipsing Sparrow since he copped his last monarch title in 2009.
But on Sunday night Chalkdust connected with people on the serious issue of potential child abuse as a result of child marriage, provoking thought while at the same time having folks chuckle and laugh.
He beat out Karene Asche and Heather Mac Intosh into second and third respectively, while defending monarch Devon Seale could only manage sixth spot. (See page A21)
Surrounded by friends, family and jubilant supporters after the victory, Liverpool told the T&T Guardian: "That is the essence of the calypso—people must understand it, and they must laugh, they must be entertained. You taking serious issues, but not in a way to make people drowsy or make the song boring… You have to make the topic beautiful, so they can enjoy themselves and laugh at themselves, you know? People must learn to laugh."
Liverpool said he was not afraid he might offend some Hindu people as a result of the topic of his calypso Learn From Arithmetic.
"No. Because I did everything clean, nothing dirty, nothing nasty—just talking maths. I couldn't offend Hindu people because I just simply said what is happening. I played double entendre, yes."
His calypso falls squarely in social commentary while also flirting with the idea of smut calypso—the tag line "75 can't go into 14" is both a lesson in maths and a possible metaphor for old men having sexual relations with young girls—yet the way he expressed it mocked the absurdity and immorality of such unequal relationships with a barbed humour.
"It was a lesson in both literacy and numeracy," quipped one of his supporters.
Asked what he intended to do with his $700,000 winnings and what he will try next year for a tenth win, Liverpool said: "Both those things depend on my wife, …because my wife usually tells me if my calypsoes are good, bad or indifferent."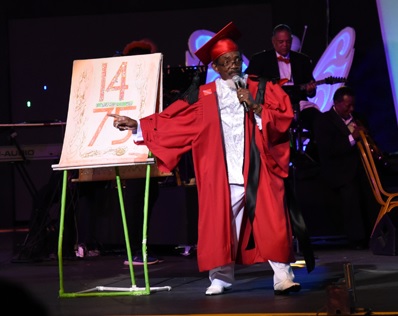 During his performance, Chalkdust, who celebrated his 50th year as a calypsonian this year, connected with the audience with an engaging delivery. The calypso taught a gentle lesson in the art of entertaining an audience whilst using language to craft a skilful T&T folk song about a controversial topical issue.
In typical Chalkie fashion, the music was not really something you could dance to. But he still achieved a natural connection with the Grand Stand audience with his easy conversational style, his varied use of arithmetic as a satirical metaphor, his humorous storytelling skills and his skilful harnessing of the hallowed T&T tradition of smut calypso without ever once using overtly smutty, crass or offensive language.
He also negotiated the tricky area of the barbarous side of some minority ethnic cultural practices without ever sounding prejudiced or insulting to Indo-Trini or other ethnicities as a whole, managing to raise the issue to a national, human level: that of the rights of any girl child to a childhood, free from the sexual predations of older men. And it didn't hurt his popularity that he set up Sat Maharaj as a bogeyman of sorts, injecting conflict into the mix.
Around the Web